Chile Surf Travel
When one congers up images of the ultimate surf trip adventure, the one prerequisite that comes to mind is solitary, perfect waves. Chile has both, solitude and perfect waves. Sure, surfing in Chile is becoming more mainstream everyday... not only are the local Chileans starting to rip, but more and more people are discovering that Chile has a plethora of great waves, great cuisine, excellent seafood, world class wine, and very friendly local people. Even with this being the case, there still exists the opportunity to discover new and secluded, world class surf spots with ease.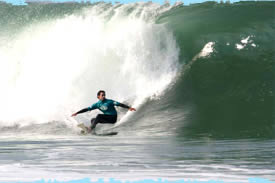 A good 4x4, local knowledge, and some time is all one needs to go find your own little slice of surf adventure paradise. Chile Surf Adventures, a professional travel guide service, offers travellers the opportunity to experience this unique quality of Chile. With over 4,000 kilometres of coastline, the best way to take advantage of this vast stretch of mostly unexplored coast, is to let experienced guides, direct you straight to the best areas without wasting any time. Not only can you take advantage of their local knowledge to maximize your time, you won't have to worry about driving there.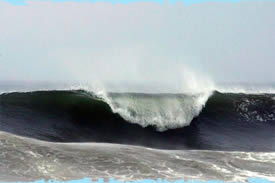 You are met at the Santiago International Airport, and transported to the nearest world class surf spot. You will get shuttled to and from each destination in a 4x4 passenger van with reclining seats, private reading lamps, and a cold beverage in your hand. You can even pop in a DVD of your choice into the overhead DVD player, kick back, and enjoy the ride. Their exploration assault vehicle is a custom 4x4 diesel Ford van. The interior is equipped with reclining captain's chairs, drop-down flat screen for DVD viewing, CD stereo system, and big bay windows for easy viewing.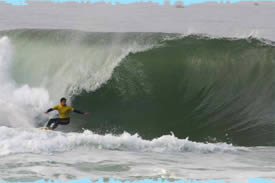 It can accommodate up to 10 total passengers. They usually pull their off-road, recreational support trailer fully equipped with fully functional galley with built-in sink, stove, and refrigerator, and complete indoor bathroom with shower and private facility making it user-friendly for ladies. All camp equipment is supplied - including: tent, sleeping bag with bed lining, air mattress, pillow, head lamp for reading, private shower, and portable bathroom, beach furniture, etc. There is also use of alternative activity equipment such as snorkeling and spear fishing equipment, fishing gear, mountain bikes, etc.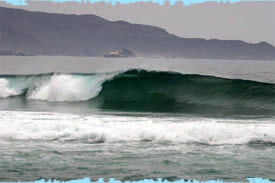 Also included in your package is a DVD journal of your trip & any surf equipment rental required.

Their bilingual guide team will set up all the camp equipment, and prepare the meals, and do everything to make sure that you are enjoying the surf, and the country to the maximum. Everyday the guests will be served three meals a day with beverages, wine, beer, and spirits included. Our philosophy is to provide all the comforts possible, while being in contact with nature.

Chile Surf Adventures operates a responsible, sustainable tour service, free of environmental degradation and cultural exploitation.Nick does everything within his power to make sure that his guests surf the best waves that Chile has to offer, and that they are enjoying themselves to the maximum. If you relish in the thought of old-time surf excursions, but with modern amenities, let them lead you on your true South American surf excursion.

10 day tours from AU$2350 per person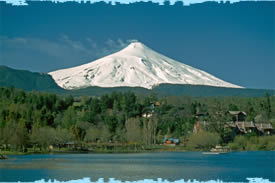 They also offer Snow/Surf combination adventures with everything included such as snowboard equipment, lift tickets, & lodging, etc.