Somalia Surf Trip Vacation Destinations
Africa's easternmost country, Somalia has a land area of 637,540 square kilometers, slightly less than that of the state of Texas. Somalia occupies the tip of a region commonly referred to as the Horn of Africa--because of its resemblance on the map to a rhinoceros's horn--that also includes Ethiopia and Djibouti.
Somalia's terrain consists mainly of plateaus, plains, and highlands. In the far north, however, the rugged east-west ranges of the Karkaar Mountains lie at varying distances from the Gulf of Aden coast. The weather is hot throughout the year, except at the higher elevations in the north. Rainfall is sparse, and most of Somalia has a semiarid-to- arid environment suitable only for the nomadic pastoralism practiced by well over half the population. Only in limited areas of moderate rainfall in the northwest, and particularly in the southwest, where the country's two perennial rivers are found, is agriculture practiced to any extent.
Somalia Map: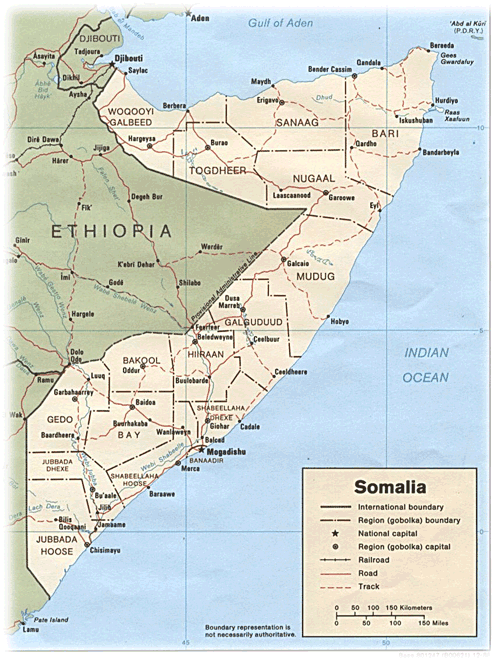 Somalia Climate: Somalis recognize four seasons, two rainy (gu and day) and two dry (jiilaal and hagaa). The gu rains begin in April and last until June, producing a fresh supply of pasture and for a brief period turning the desert into a flowering garden. Lush vegetation covers most of the land, especially the central grazing plateau where grass grows tall. Milk and meat abound, water is plentiful, and animals do not require much care. The clans, reprieved from four months' drought, assemble to engage alternately in banter and poetic exchange or in a new cycle of hereditary feuds. They also offer sacrifices to Allah and to the founding clan ancestors, whose blessings they seek. Numerous social functions occur: marriages are contracted, outstanding disputes are settled or exacerbated, and a person's age is calculated in terms of the number of gus he or she has lived. The gu season is followed by the hagaa drought (July-September) and the hagaa by the day rains (October-November). Next is jiilaal (December-March), the harshest season for pastoralists and their herds.
Back to Africa Surf Trip Vacation Destinations...