Northern Territory Surf Trip Destinations
Surf The Northern Territory, Australia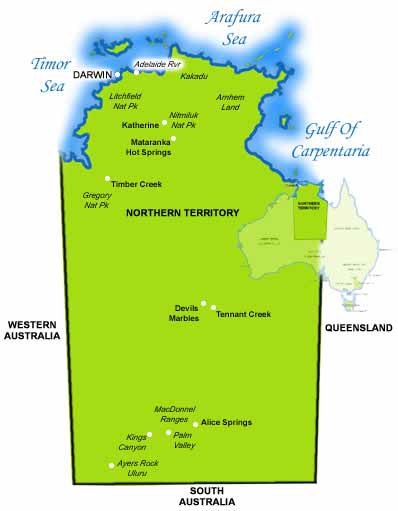 ---
10 Things You Didn't Know About Australia.
1) Australia is the smallest of the world's seven continents, the largest island in the world and the only country which occupies an entire continent.
2) Australia's total area is 2,966,200 square miles with population of 16,849,496, which is the lowest population density in the world, despite being the sixth largest country!
3) Australia boasts over 7,000 beaches - more than any other nation.
4) The kangaroo is unique to Australia and one of our most easily recognised mammals. There are more kangaroos in Australia now than when Australia was first settled. Estimates suggest around 40 million.
5) Until Europeans came to australia there were no hoofed animals (horses, cattle, goats, camals etc..)!!
6) The world's longest continuous fence known as the 'dingo fence', runs through central Queensland for 5,531 kilometres. It is 1.8 metres high and is designed to keep sheep safe from Australia's native dog.
7) The world's fastest growing tree is the Australian Eucalyptus. It can grow up to 10 metres in one year.
8) Australia has been inhabited far longer than Ireland has. The first settlers were called Aborigines. Until 1788 , the only inhabitants of Australia were the Aborigines. They had lived there for over 40,000 years and it is thought that there was as many as 300,000 of them there at the time. Today there are only 150,000 Aborigines representing 1% of the population of Australia. Nearly half of them live in the far north, in some of the hottest and remote regions. They moved to Australia from South East Asia. They crossed the sea in rafts moving along the islands now known as Indonesia and New Guinea. They were nomads who wandered from place to place in search of food.
9) The Boomerang is the most famous weapon of the Aborigines. When skilfully thrown it will zoom back again to the hunter if it does not strike its target on the way.
10) Ayers Rock - Uluru or what was once known as Ayers rock is the world's largest monolith.It is a dedicated Aboriginal sacred site. It is located in the Northern Territory near the city of Alice Springs. Walking tours to the top of Ayers Rock are organised by local Aborigines.
Back to Australia Surf Trip Vacation Destinations Travel Directory...