Canary Islands Surf Trip Vacation Destinations
Geography: Geographically Canary Islands belong to the African continent, however, politically they have belonged to the Spanish government since 1.492 when the last island (Tenerife) was conquered by the Castilian crown. The Canary Islands are located in the Atlantic Ocean near African continent coasts. The Archipelago consists of seven islands which have a volcanic origin. From east to west the name of the islands is: Fuerteventura, Lanzarote, Gran Canaria, Tenerife, La Gomera, La Palma y El Hierro; among them the biggest one is Tenerife where volcano Teide ( the highest Spanish mountain with 3718 m) is.
In the Archipelago it's possible seeing many different landscapes. The eastern islands are characterized by desert areas and the western islands present green landscapes due to they have more mountains which stop the alisios winds coming from the north and which take humidity from the sea to leave it in the north part of these islands. Besides, these winds make milder our annual temperatures than those expected for our tropical latitude. The medium temperature is about 18°C.
Canary Islands Map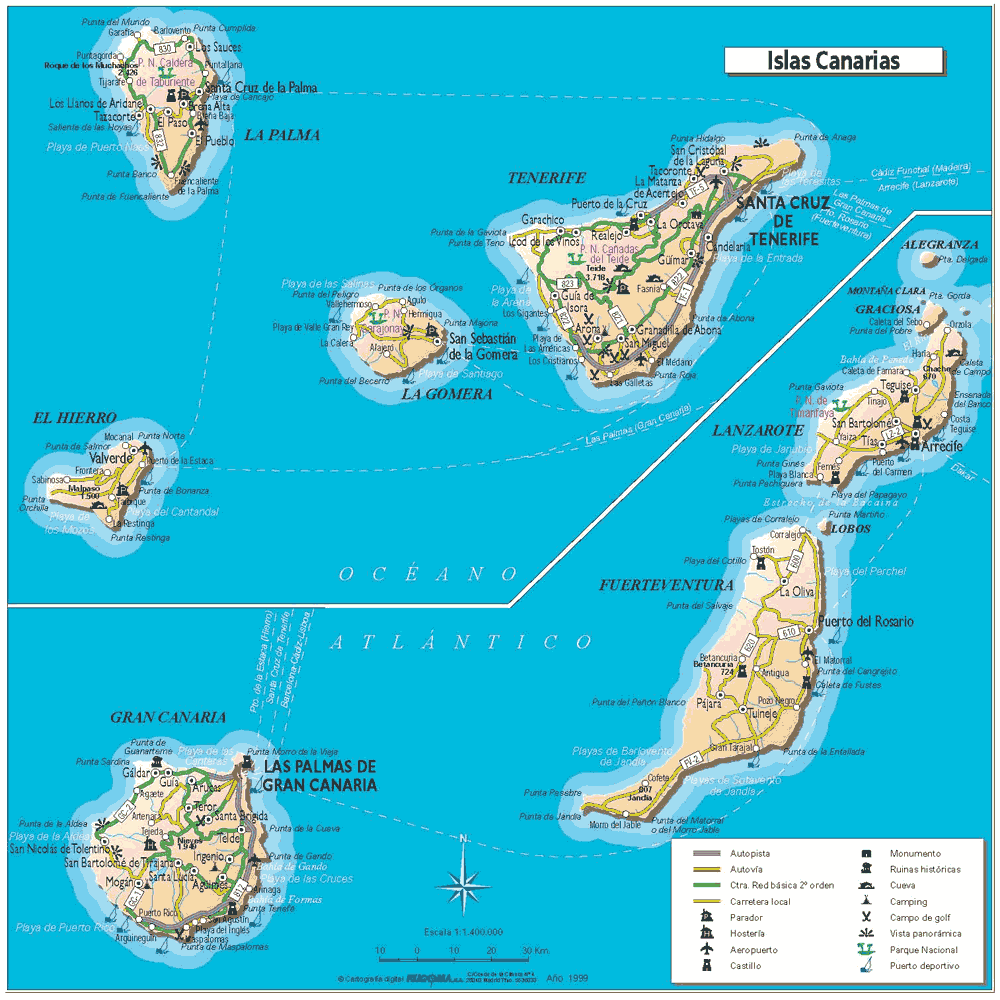 Canary Islands Surf Spots:
Gran Canaria: Playa del Ingles, Boquines, La Barra, El Air, El Fronton, El Confital, Maspalomas, Mosca Point, Arguineguin, Juan Grande, Lloret, La Guancha, Quintanilla, Medio Ahogado, Playa Del Majar, La Cicer, La Puntilla, El Picacho, El Roque - La Peña, Los Enanos

Lanzarote: Playa de Famara, Morro Negro, La Santa, Arrieta, El Quemao, Caleta de Famara, San Juan, Orzola, Boca Del Abajo, Ghost Town, Punta Mujeres, Jameos Del Aqua, Playa Canteria, El Risco, Las Cucharas, El Centro, La Graciosa

Fuerte Ventura: El Burro, La Hennerosa, Playa de Esquinzo, Playa de Salinas, Los Lobos, Cotillo Beach, El Muelle, Spew Pits, La Pared - Hierro, Punta Blanca, Rocky Point, Los Alemanes, Punta Gorda, Hierro Left, Rocky Point Outside, The Bubble, Majanicho, Suicidios, Mejillones, Tindaya

Tenerife: El Medano, Punta Blanca, La Izquierda, Playa Socorro, El Conquistador, Los Dos Hermanos, Las Galletas, Almáciga, Porís De Abona, La Fitenia, La Machacona, Puerto De La Cruz - Playa Jardín, Puerto De La Cruz - Martiánez, Los Patos - La Orrotava, Las Gaviotas, El Cabezo - El Bunker, La Tejita (El Medano), El Charco - La Piscina, El Arenal, Benijo, La Derecha, Candelaria, Igueste, La Enramada, Piscinas, El Puertito, El Lobo, Billboards, Bristol, El Bunker

Outer Isles: Hermigua