Antigua and Barbuda Surf Trip Vacation Destinations
Antigua is not among the leading islands in the Caribbean for surfing but gets some good swell off the Atlantic in the South-east of the island. The best beach is Turtle Bay, but there are occasionally swells from the west, in which case the best breaks are at Galley Bay and at Sand Haven south of Dickenson Bay.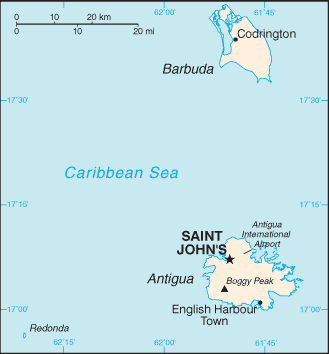 ---
Caribbean Vacation Rentals, Homes, Villas and Condos.
---
Airlines Serving Antigua and Barbuda
From Other Caribbean Islands
V.C. Bird International Airport offers direct services from New York, London, Toronto, Frankfurt, San Juan and many Caribbean islands via LIAT.
From North America
From North America, American Airlines, Air Canada and BWIA offer direct flights and connections via San Juan.
Air Canada also provide scheduled services to St. Maarten and Guadeloupe.
From Europe
British Airways, BWIA and Lufthansa provide services from Europe with several flights weekly. Air France and KLM provide scheduled services to St. Maarten.
Please note: There is a departure tax of US$10 (EC$25) for non-nationals of 12 years and over after spending 24 hours on Antigua.
Airline reservation numbers/websites:

Air Canada

(800) 422-6232
(268) 462-1147


American Eagle/American Airlines

(800) 433-7300
(268) 462-0950

BWIA

(800)-JET-BWIA (US)
(268) 462-0262/3

British Airways

(800) 247-9297
(268) 462-3219

www.britishairways.com
Continental Airlines
(800) 231-0856 (268) 462-5355

www.continental.com
Delta Airlines
(800) 532-4777
(800) 337-4777
www.delta.com

Caribbean Star

US Air
(268) 480-5601 Extension 5704
www.usairways.com
Virgin Atlantic
Tel Numbers
www.virgin-atlantic.com

WINAIR

Island Charters

-

LIAT Scheduled service from the Caribbean and South America.
(268) 480-5601
http://www.liatairline.com

Air St. Kitts/Nevis Charter service to most neighboring islands.
(268) 465-8571 (Call collect)

Carib Aviation Charter service to most neighboring islands.
V.C. Bird International Airport
(or PO Box 318, St. Johns)
Antigua, West Indies
Tel: (268) 462-3147 or 462-3452
Fax: (268) 462-3125
After-hours calls: (268) 461-1650
http://www.candoo.com/carib/
Email caribav@candoo.com

Montserratt Airways Charter service to most neighboring islands.

Caribbean Star Airlines Ltd Scheduled service to most neighboring islands.
(268) 480 2561~5/67
Web site: www.flycaribbeanstar.com

---
Antigua and Barbuda Travel Tips
Tipping/Gratuities: Same as in the US; 10-15% depending on the service. Some restaurants & hotels will automatically add a 10% gratuity. If in doubt, just ask. Give porters and bellhops 50 cents per bag, taxi drivers 10-15% of the fare.
Telephones: Calling the U.S. is easy from Antigua and Barbuda. Most hotels offer USA Direct calling service, or can connect you with a U.S. operator for calling home.
Taxes: Antigua & Barbuda has a US$20.00 airport departure tax, a room tax of 8.5% and service charge of 10% (in lieu of tipping).
Electricity: Part of the island is 110 volts, the remainder is 220 volts. Most hotels have both voltages available.
Appropriate Attire: Informal, but conservative. Beach attire is appropriate for the beach but not town, shops or restaurants. Some hotels and restaurants stipulate jacket and tie for men and dresses for women in the evening.
Time Zone: Atlantic Standard Time, one hour ahead of Eastern Standard Time and the same as Eastern Daylight Time. GMT -4.
Currency/Money: Official currency is the Eastern Caribbean dollar which is fixed to the US dollar. Recent exchange rate was US$1.00 = EC$2.65. US currency, travelers checks and major credit cards are welcome everywhere.
Banks: Antigua and Barbuda Development Bank, Antigua and Barbuda Investment, Bank Antigua Commercial Bank, Bank of Antigua, Bank of Nova Scotia, Barclays Bank PLC, Canadian Imperial Bank of Commerce, Caribbean Corporation Bank, Royal Bank of Canada, Swiss American National Bank of Antigua. Banking hours are Monday through Thursday from 8:00am to 1:00pm and again from 3:00pm to 5:00pm; Friday from 8:00am to 12:00pm, and 3:00pm to 5:00pm.
Medical Facilities: There are several general practitioners and specialists on the island, a hospital and a private clinic. No vaccinations are required unless the visitor is arriving from an endemic area. Recompression chambers are available by air ambulance at nearby Saba and in St. Thomas. Pharmaceutical services are widely available.
Passports & Immigration: U.S. , Canadian and U.K. nationals require proof of citizenship--a valid passport, original or certified birth certificate. U.S. residents and others should contact the nearest tourist office for entry requirements. Click here for Visa Information.
Traveling with Pets: The following guidelines must be followed when importing any animal into Antigua & Barbuda:
An import permit must be obtained from the Chief Veterinary Officer before the importation of all animals. In order to obtain this permit, the intended animal must first be micro-chipped and its blood tested for Rabies Titer at an approved laboratory. The result of such tests must then be forwarded to:
The Acting Chief Veterinary Officer,
PO Box 1282,
St. Johns, Antigua
Tel/Fax: (268) 460-1759
Addtional Hints for Travelling With Pets
* Always seek the advice of your veterinarian before flying any pet.
* Please check with your airlines for list of requirements i.e. proof of vaccinations, a current health certificate, etc.
* Airlines have specific requirements designed to ensure your pet's safety. Make sure that the kennel in which the animal is confined is approved for air travel.
* Always leave a collar on your pet that has a tag with your name, your address and your pet's name on it.
Shopping Hours: Monday thru Saturday 8:00am to noon and 1:00pm-5:00pm.
Personal Safety: Antigua & Barbuda are relatively crime free, but exercise normal precautions; i.e. don't leave valuables unattended in rental cars or on the beach.
Back to Caribbean Surf Trip Vacation Destinations Travel Directory