Andaman and Nicobar Islands Surf Trip Vacation Destinations
Geography: The Andaman and Nicobar Islands, a Union Territory, are situated between 6° and 14° North Latitude and 92° and 94° East Longitude. The group of 572 islands/ Islets lies in the Bay of Bengal, 193 km from Cape Negaris in Burma (Myanmar), 1,255 km from Kolkata and 1,190 km from Chennai. Two principal groups of islets are Ritchie's Archipelago and Labyrinth Islands. The Nicobar Islands are situated to the south of Andamans, 121 km from Little Andaman Island. There are 38 inhabited islands, including 25 in the Andaman district and 13 in the Nicobar district.
Tourism: Andaman and Nicobar Islands have been recognised as an eco-friendly tourist's destination. As a tourist paradise, these islands have something very special to offer like Cellular Jail, Ross Island and Havelock Island.
The Andaman tropical evergreen rain forests, beautiful silver sandy beaches, serpentine mangrove-lines creeks, marine life abounding rare species of plants, animals, corals, etc., provide a memorable experience to the tourists. There is tremendous scope for enjoying nature in the beach resorts, water sports and adventure water sports, adventure tourism like trekking, Island camping, Nature trail, Scuba Diving, etc.
Surf Trip Surf Travel Video Surfing Andaman Island

Andaman and Nicobar Islands Map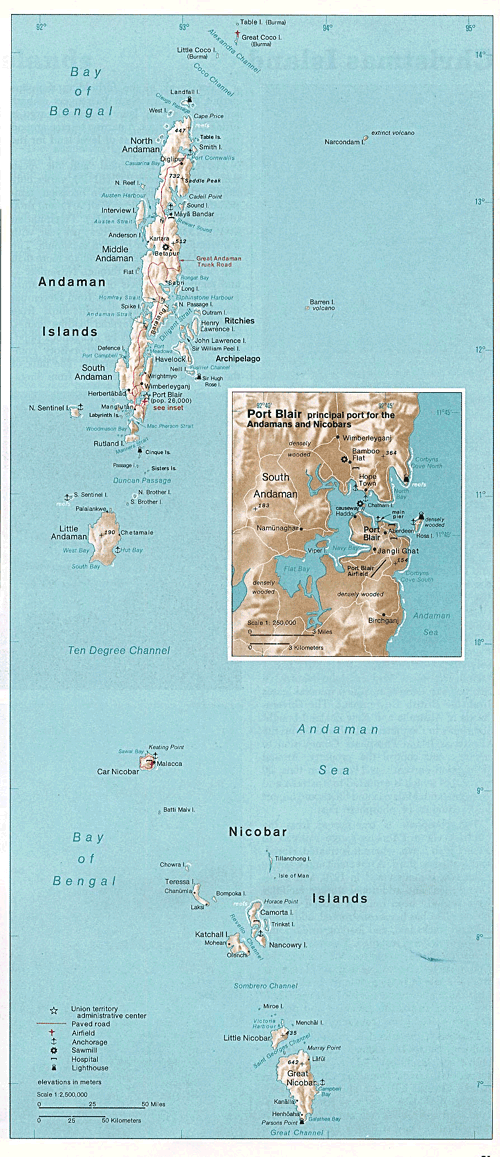 Back to Indian Ocean Islands Surf Trip Vacation Destinations Travel Directory...