East Timor Surf Trip Suring Vacation Destinations
Geography: Area: 15,007 sq. km. Cities: Capital--Dili; Baucau.
Terrain: Mountainous. East Timor (Tinor-Leste) is located in Southeast Asia, on the southernmost edge of the Indonesian archipelago, northwest of Australia. The country includes the eastern half of Timor island as well as the Oecussi enclave in the northwest portion of Indonesian West Timor, and the islands of Atauro and Jaco. The mixed Malay and Pacific Islander culture of the Timorese people reflects the geography of the country on the border of those two cultural areas.
Climate: Tropical; hot, semi-arid; rainy and dry seasons.
East Timor Map: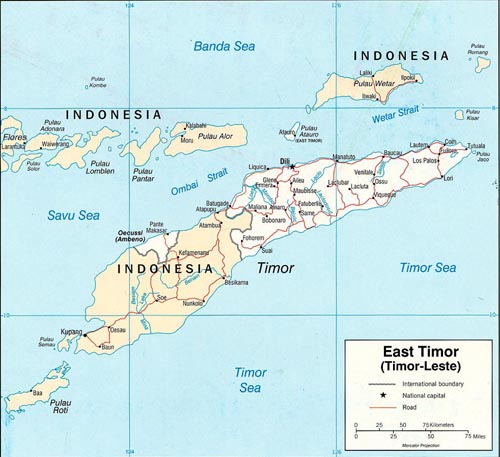 Back to Indonesia Surf Trip Vacation Destinations Travel Directory...