Reunion Island Surf Trip Surfing Vacation Destinations
Reunion island Geography: Réunion, (French: Île de la Réunion or La Réunion, formerly Île Bourbon), is an island, located in the Indian Ocean east of Madagascar, about 200 km (130 miles) south west. The island is 63 kilometres (39 miles) long; 45 kilometres (28 miles ) wide; and covers 2512 square kilometres (970 square miles). Reunion Island is a volcanic island. Le Piton des Neiges is the volcano that created the island. It is now extinct and culminates at 3070m (10070ft). A second volcano, La ournaise ("The Furnace") has taken over and is still one of the most active volcano in the world. Fortunately, La Fournaise is usually not a threat to the population. The Piton de la Fournaise is created by a hotspot volcano, which also created the Piton des Neiges and the islands of Mauritius and Rodrigues. The Piton des Neiges volcano, the highest point on the island at 3070 metres (10,069 feet) above sea level, is north west of the Piton de la Fournaise. Collapsed calderas and canyons are south west of the mountain. The Piton des Neiges is extinct. Despite its name, snow (French: neige) practically never falls on the summit. The slopes of both volcanoes are heavily forested. Cultivated land and cities like the capital city of Saint-Denis are concentrated on the surrounding coastal lowlands. Réunion also has three calderas: the Cirque de Salazie, the Cirque de Cilaos and the Cirque de Mafate. The latter is accessible only by foot or helicopter.
Reunion Island Climate: Ruinion island is very pleasant. The summer is the rainy season, and the average high temperature is 30ºC.The dry season nights are cooler (around 20ºC on the coast, but sometimes below 0ºC at higher elevations).
Reunion Island Map: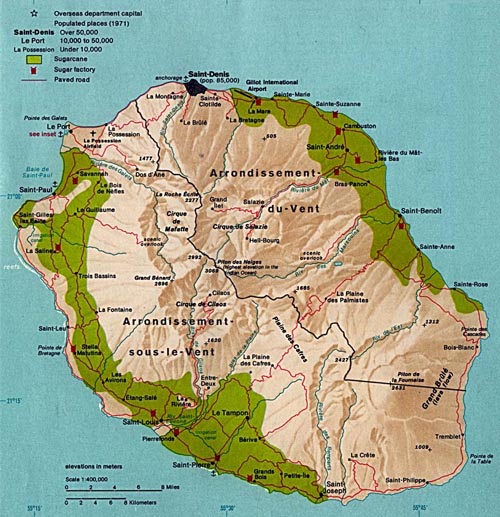 Back to Indian Ocean Surf Trip Vacation Destinations Travel Directory...