Easter Island Surf Trip Vacation Destinations
Easter Island is in the temperate zone, at 27° 9' south latitude. Thus it is out of the tropics, so do not expect to find the kind of climate one normally associates with Pacific islands such as Tahiti. While it rarely gets any hotter than 85°F [29.4°C], it can feel very muggy and uncomfortable in the austral Summer (December-March). Winters are mild, with a low of around 57°F [13.8°C], but it can feel a lot colder than that with the wind-chill factored in. The wind blows constantly, sometimes from several directions at once. This tends to keep the temperature fairly cool.
The only regularly scheduled airline flights to and from Easter Island are via LANChile airlines. LANChile flights depart from Santiago and stop at Easter Island, with many flights then continuing on to Tahiti. The flights are reversed the next day, leaving Tahiti, stopping at the island, and then on to Santiago. Some "domestic" flights are only Santiago > Easter > Santiago. Depending upon whether you are booked on an international flight or a domestic one, the flights leave from two different terminals at the Santiago airport. Be sure to ask. While the terminals are not a huge distance apart, a shuttle bus is involved, there is baggage to deal with and, often, time is a factor. So inquire as to whether you are on the Tahiti run, or a domestic flight only. Get to the airport early and check in as soon as possible. Most visitors require only a passport (valid for at least three months) to visit Chile and its territories. Visas are not required for North Americans, Australians, and most Europeans (but New Zealanders do need a visa, which costs US$90 and which must be obtained beforehand). No vaccinations are required and malaria is not present anywhere in Chile or its territories. U.S. citizens must pay a $100 entry fee to Chile, valid for the duration of the passport (US$55 for Canadians, US$30 for Australians, US$15 for Mexicans). This so-called reciprocity tax is applied to any country that charges Chilean nationals a fee to process visas. If you fly in and out of Tahiti, there is no fee. Airport taxes are sometimes included in your ticket. In order to drive in Chile you must have an international driving permit, though this isn't typically enforced on the island. (Still, better to have it and not need it than need it and not have it.) And if you wish to rent a motorcycle, a motorcycle license is mandatory.
Surf Trip Surf Travel Video Surfing Easter Island

Easter Island Map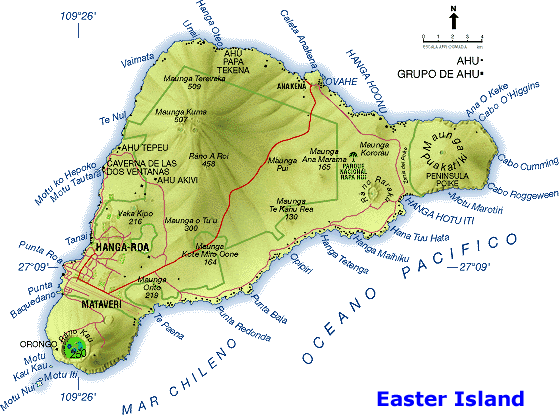 Back to South America or Back to South Pacific Islands Surf Trip Vacation Destinations Travel Directory...