Galapagos Islands Surf Trip Vacation Destinations
Surfing in the Galapagos Islands is an activity practiced by locals and visitors however most of it had to be done within the ports areas due to the lack of boats available for this purposes.
Galapagos has very heavy surf and is only recommended for experienced surfers. You should bring two boards, one over 7 feet and a smaller board. Galapagos can have world class waves and conditions, especially on northern swell season, December to May (hot season) for best north to northwest, and west swells. With reef peak waves and point/reef waves of quality and power.
You can head for San Cristobal Island and find good to excellent surf all year at walking distance. The main surf spots are Carola, El Canon, El Tongo, and the Loberia.
The Galapagos archipelago is located some 1000 kilometers straight west of mainland Ecuador and consists of 19 main islands and numerous smaller islets. ESPAÑOLA (Hood) older, eroded volcanic island, area of 61km2, 206m max. altitud. FLOREANA (Charles, official name is Santa Maria) sixth largest island, populated, Puerto Velasco Ibarra main settlement with a few hundred inhabitants, 173 km2, 640m. SAN CRISTOBAL (Chatham) fifth largest island, 558km2, 730m, inhabited. SANTA FE (Barrington) smaller island of 24 km2, 259m, tall opuntias, incense tree, salt bush, yellow cordia, blainvillea, maytenus, thorn shrub, Santa Fe land iguanas, pelican nesting site, sea lion colony, mockingbird, dove, finch, good snorkelling, swimming with sea lions, schools of fish, sharks. ISLA PLAZAS two tiny islands uplifted from the sea, separated by a channel. SANTA CRUZ (Indefatigable) second largest island, the most populated of all islands with 10 000 people, 986 km2, 864m ( Cerro Crocker ). BALTRA (South Seymour) 27km2, 80m, island to the north of Santa Cruz, site of the airport, public transport to Puerto Ayora by bus and ferry, incense tree, prickly pear cactusa, Jerusalem thorn, sea birds and sea lions. MOSQUERA 0.058km2, 2m, beautiful sand beach, large sea lion colony, scuba diving site. NORTH SEYMOUR (Seymour Norte or just called Seymour) uplifted, 1,9 km2, 30m, incense tree, yellow cordia, croton, salt bush, maytenus, merremia, opuntia, evolvus, nesting grounds magnificent frigate bird, blue-footed booby, sea lion, marine iguana. DAPHNE two small eroded volcanic islands, Daphne Major 0.32 km2, 120m, incense tree, chamaesyce, purslane, gray matplant, prickly pear cactus, puncture weed, masked and blue footed boobies colonies, red-billed tropic bird. SOMBRERO CHINO (Chinese Hat) volcanic island, 0.25km2, 52m, lava formations, lava cactus, purslane, carpet weed, puncture weed, sea lion, marine iguana, Galapgaos penguin, snorkeling and swimming in its small cove. BARTOLOME (Bartholomew) volcanic island, 1.2km2, 114m, volcanic landscape, tuff cones, panoramic views from summit, Pinnacle Rock , maytenus, mat plant, lava cactus, mollugo, thorn shrub, white and red mangrove, pectis, sand beach, swimming, snorkeling, Galapagos penguin, blue footed booby, pelican, marine turtle, sea lion, tropical fish. RABIDA (Jervis) small island, 5 km2, 367m, dark red coral sand beach, sea lion, sea lion bachelor colony, pelican nesting sites, blue-footed booby, salt water lagoon, flamingos, white-cheeked pintails, snorkeling site at the end of the beach. ISABELA (Albemarle) largest of the Galapagos islands, 4588 km2, formed by five active volcanoes fused together Wolf volcano, highest point at 1707m in the entire Galapagos.
Galapagos Climate: The richness of the marine world and the varied ecosystems of the islands are due to the mixture of cold, nutrient-rich waters brought by the Humboldt stream and warm water by the El Niño current. That also is the reason for the two distinct seasons the islands enjoy. From July to January the cold Humboldt current has more force and pushes out the warm waters, hence the water and air temperatures are cooler, with little precipitation but sometimes foggy conditions called by locals "garua". In the other half of the year, warm waters take over, so you have warmer air and water temperatures with occasionally rain showers. Another characteristics of the climate are pronounced yearly changes. No year is the same and huge differences of precipitations occur with some islands receiving no rain in one year and being deluged with water in another one.
Surf Trip Surf Travel Video Surfing La Loberia and Tongo Reef Galapagos Islands

Galapagos Islands Map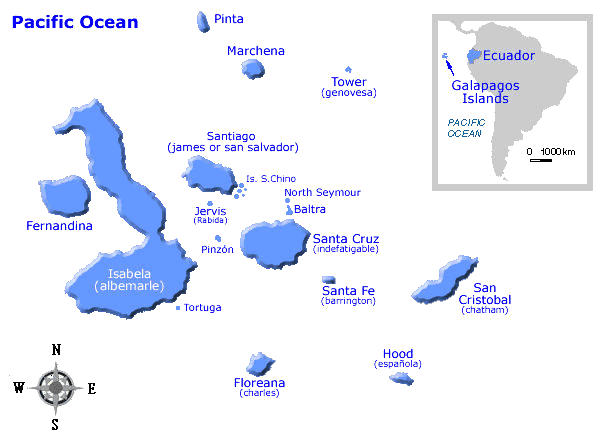 Back to South America or Back to South Pacific Islands Surf Trip Vacation Destinations Travel Directory...