Guam Surf Trip Vacation Destinations
The island of Guam is approximately 30 miles in length with a variable width, ranging from 12 miles to 4 miles at its narrowest point. The largest island in Micronesia, Guam has a total land mass of 212 square miles, excluding reef formations. Shaped like a footprint, Guam was formed by the union of two volcanoes. The island has two basic geological compositions. Two-thirds of Guam, the central and northern features, are primarily raised limestones with several volcanic formations at Mount Santa Rosa and Mount Mataguak. The northern clifflines drop precipitately into the sea with an elevation ranging from 300 to 600 feet. The southern features are basically volcanic with an elongated mountain ridge dividing the inland valleys and coastline. The highest point is Mount Lamlam with an elevation of 1,334 feet..
Guam's climate is pleasantly warm year-round. The mean annual temperature is 81 degrees; generally, the range is from the low 70s to the middle 80s. The coolest and least humid months, marked by prevailing westerly tradewinds, are in December through February. Although the warmest months are from March through August, the refreshing trade winds blow steadily. The annual rainfall totals 80 to 110 inches. There are two seasons, the dry and the rainy. The dry season, "fanumnangan," begins in December through June. The rainy season, "fanuchanan," falls within the remaining months.
Surf Trip Surf Travel Video Surfing Guam

Guam Map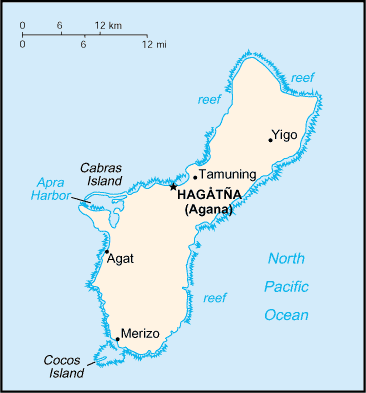 Back to South Pacific Islands Surf Trip Vacation Destinations Travel Directory...