Hong Kong Surf Trip Vacation Destinations
Hong Kong can be divided into three distinct areas: Hong Kong Island (Victoria), Kowloon and the New Territories. Located across the bay from Kowloon is what is commonly known as Hong Kong Island, or Victoria. This section of Hong Kong has several notorious areas: the Central District, which is the center of business; the Western District is heavily influenced by the Chinese, it is also where the British first settled; Causeway Bay, initially known as East Point by the British, is home to Victoria Park as well as many high rises; Stanley, located on the southern side, is infamous for its beaches, Stanley Market, and the nearby Stanley Prison; Aberdeen, also on the south side, was the main fishing port before the British arrived and is home to thousands of boats.
Hong Kong subtropical climate has four distinct seasons is best visited when its relatively dry and cool which is from October to December. Hong Kong's summers have average temperatures of 82 degrees F (28 C) and are extremely hot and humid. Rainfall is plentiful during this time, April to September, as Hong Kong's residents are subjected to typhoons. There is a short spring and fall period and the winter temperatures average about 59 degrees F ( 15 C).
Surf Trip Surf Travel Video Surfing Hong Kong

Hong Kong Map: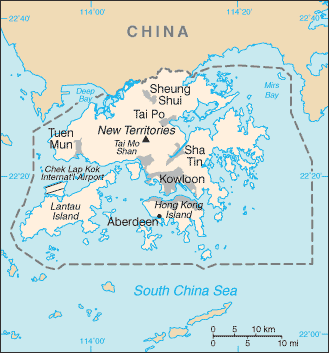 Back to South Pacific Islands Surf Trip Vacation Destinations Travel Directory...