Niue Island Surf Trip Vacation Destinations
Niue is a very small island, located NE of New Zealand, East of Tonga, West of the Cook Islands and South of Samoa. The map shows Niue in the central Pacific, and its Exclusive Economic Zone (EEZ) in yellow. Niue is rather unique in being only an isolated island rather than an archipelago.
Climate: Niue is located south of the moist tropics but north of the dry subtropical deserts. Warm moist air rises above the equatorial band, raining its moisture over tropical rain forests. The dry high altitude air travels south-west in a rotation known as the Hadley Cell. Above the subtropic high, the dry cool air descends and warms up, becoming even dryer. From the subtropic high the wind continues its Hadley spiral, now blowing as a south-easterly trade wind, evaporating moisture from the sea and joining up with the tropics again, where it deposits its load of moisture. This is why Niue experiences long periods of trade winds blowing from the south-east.
Niue Island Map: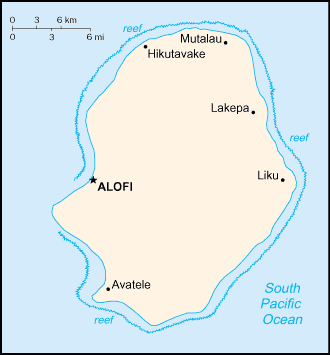 Check out the S/V Felicity website for some great pictures and info on Niue Island
Back to South Pacific Islands Surf Trip Vacation Destinations Travel Directory...