Norfolk Islands Surf Trip Vacation Destinations
Norfolk Island is 1610kms ENE of Sydney, 1456kms ESE of Brisbane, 1063kms NNW of Auckland and 772kms SE of Noumea. Norfolk Island is a volcanic outcrop 8km long and 5km wide. Two smaller uninhabited islands, Nepean and Phillip, lie to the south at a distance of 1km and 6km respectively. Norfolk Island is 3855ha.
Climate: Subtropical. Average rainfall 1328mm per year. Lovely summer days from 24 degrees but not exceeding 28.4 degrees, nights 19-21 degrees. Idylic days mid-winter, with temperatures ranging from 12 at night to 19-21 degrees during the day.
Surf Trip Surf Travel Video Surfing Norfolk Island. Best surfing is outside the reef at Slaughter Bay. Locals also surf at Anson Bay and Cresswell Bay but they can be dangerous.

Norfolk Island Map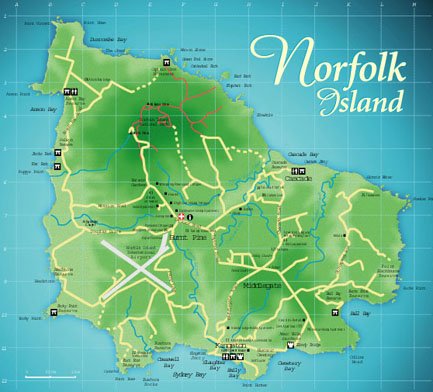 Back to South Pacific Islands Surf Trip Vacation Destinations Travel Directory...