Nicaragua Surf Trip Destinations
Surf Trip Surf Travel Video Surfing Nicaragua

The best season for Nicaragua is generally the same as in the Mantawaii, with May through September the prime months. During this time the wind is often offshore all day long for weeks on end due to the lake effect of Lago Nicaragua as well as Gulf trade winds. Flights from LAX only take about 5 hours, and arrive in the capital city of Managua. From there it is about a three hour drive to the surf camp. The best airfare for travel within Central America is TACA airlines. They have the best schedules as well as the best board policies. Board fee's are $50 per board bag, with a limit of 1 bag with 2 boards per person.
For more information on package costs and availability: Check Out Popoyo Surf Lodge and WaveHunters
Nicaragua Map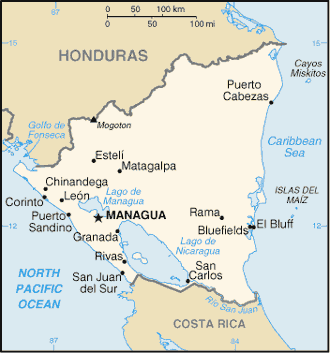 Nicaragua Vacation Rentals, Homes, Villas and Condos.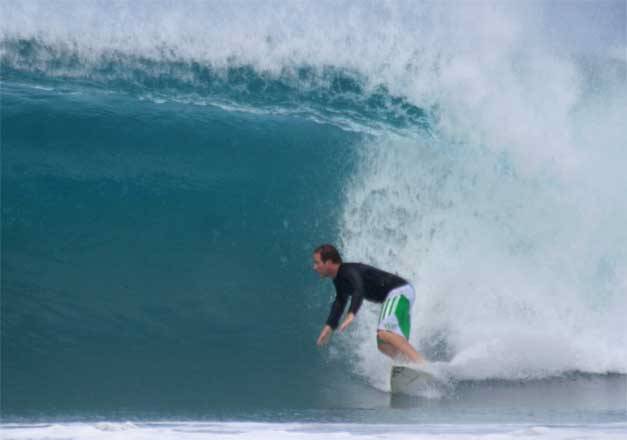 Dave Andrews - Nicaragua 06. Popoyo Surf Lodge
---
Airlines Serving Nicaragua

American Airlines, Continental Airlines, Delta Airlines, Copa Airlines, Grupo Taca, Aerocaribbean and Atlantic Airlines. Passenger check-in counters are located on the west wing of the Main Terminal at ground level.
American Airlines
US airline with two daily flights to Miami and connecting flights.
Main office: Plaza España 300 meter south.
Reservations: (505) 266-3900
Fax: (505) 266-3911
Centro Comercial Managua: Section-C
Tel. (505) 872-8998, Monday to Saturday, 10:00 AM - 6:00 PM
Airport Office:
Tel: (505) 233-1624/28 Ext. 2272; (505) 263-1045
Fax: (505) 263-1046
www.aa.com
Continental Airlines
US airline with daily flights to Houston and connecting flights.
Main office: Ofiplaza building, second level building 5.
Reservations: (505) 278-7033
Fax: (505) 278-2838
Airport office:
Tel. EAAI: (505) 233-1624/28 Ext. 2284 - 2253;
Contiental Airlines Airport office:. (505) 263-1030
Fax: (505) 263-1034
www.continental.com
Copa Airlines
US-Panamanian airline with daily flights to Guatemala City, Managua, San Jose, San Salvador, Panama City, and connecting flights.
Main office: Tip Top Restaurant ½ block west, kilometer 4 ½ Masaya highway.
Tel: (505) 267-3976
Reservations: (505) 267-0045
Sales: (505) 270-6239
Fax: (505) 267-0387
Airport office:
Tel: (505) 233-1624/28 Ext. 2257; (505) 233-1404
Fax: (505) 233-1680
www.copaair.com
Grupo Taca
Central American airline with daily flights to Miami, Los Angeles, Mexico City, San Salvador, Guatemala City, New York, Chile, Colombia, Perú, Argentina, Ecuador, Cuba, Canadá, Belice, Panamá and Managua. Monday, tuesday, thursday and saturday to Brazil.
Main office: Málaga building, Plaza España, behind McDonald's.
Tel: (505) 266-6698
Reservations: (505) 266-3136
Airport office:
Tel: (505) 263-1929/31/32
Fax: (505) 263-1808
www.taca.com
Atlantic Airlines
Nicaraguan airline with flights to Tegucigalpa on Mondays, Wednesdays and Fridays.
Main office: From the Bust José Martí 2 ½ blocks east.
Tel: (505) 222-5787
Fax:(505) 228-5614
Office at the Managua International Airport:
Tel: (505) 233-2791 Ext. 2410 - 2457
Fax: (505) 233-2791
www.atlanticairlines.com.ni
Aerocaribbean
Cuban airline with flights to Havana every Saturday.
Main office:: Bosques de Altamira, in front ot the cinema, # 158.
Tel: (505) 270-4134
Fax: (505) 270-4134
Delta Airlines
US airline with one daily flight to Atlanta and connecting flights.
Main office: Rutonda El Güengüense 100 meter east, in front of main entrance of Price Smart.
Reservations: (505) 254-8130
Fax: (505) 254-8122
Airport Office:
Tel: (505) 233-9943
Fax: (505) 233-3777
www.delta.com
Back to Cental America Surf Trip Vacation Destinations: