CORKY CARROLLS SURF ADVENTURE TRIPS
LA SALADITA, MEXICO
ANNOUNCING 2009 SUMMER SUPER SAVER "THE ECONOMY SUCKS AND WE NEED SOME BUSINESS" DISCOUNTED RATES.
JUNE 20 TO OCT 17 RATES:
SOLO $2000
COUPLE $3000
TWO OR MORE SURFERS $1600 EACH
Corky Carrols Surf Adventure Travel Updates: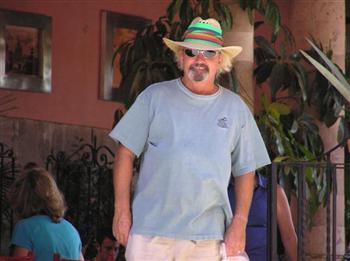 Come and stay with Corky Carroll and his lovely wife Raquel at their home on the beautiful tropical beach of La Saladita, Mexico. Located just 35 minutes north of Ixtapa and 45 minutes north of Zihautanejo along Mainland Mexico's most fertile surf coastline, right at one of the premier left hand point breaks in the world.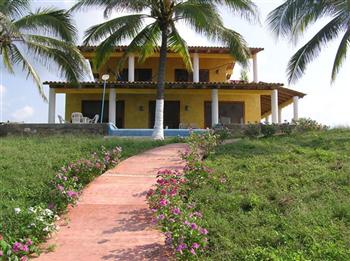 The beach front house has a swimming pool, television, internet (bring a laptop) and three guest rooms available. Two with King sized beds and one with either a King or two twins.
Bookings are available from one to six people per stay. You are provided with lodging, all your meals and drinks, personal surf coaching one on one from Corky and pick up and drop off at the airport in Zihautanejo. Let us know your eating and drinking preferences and we will customize your stay to insure you the perfect vacation.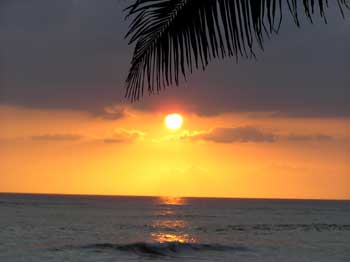 The house staff will take incredible care of you. This is a very romantic setting and is a great destination for couples as well as surfers in search of a great Mexico Surf Trip. As options we can also arrange for massages, day trips to historical sites and other activities that are available in the area.
This is a chance of a lifetime to hang out and surf with one of the true legends of surfing as well as experience one of the most beautiful and tranquil spots on the planet. It is an amazing trip for surfers and non-surfers alike.
TESTEMONIALS: SOME COMMENTS FROM PREVIOUS GUESTS.
I just came back from my fifth trip to Corky's. Now I'm back at my desk job frequently distracted with memories of the week of great surf I just scored and fantasizing about the next trip. Five trips. Different times of the year. Never disappointed with the surf.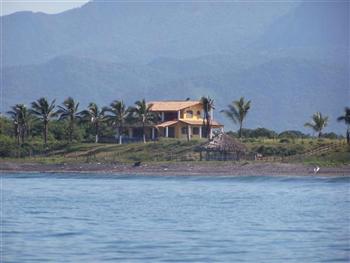 From the moment of my excited arrival to the emotional departure I was in Corky and Raquel's friendly and secure hands. The family style meals, the people, the stories, the jokes, the dogs and cats and goat, the 80 degree water and of course the fantastic surf. It really doesn't get any better than this.
Corky Carrolls Mexico Beach Front Home
Phil and Jill Retson, San Diego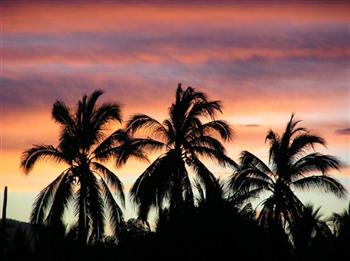 I have always experienced wonderful times on my surf trips to Corky's. From the time I am picked up from the airport to the time I am dropped off everything is taken care of by Corky and his staff. Great surf, warm water, amazing food, Mexico Sunsets and Corkys custom drinks, comfortable private rooms, internet access, professional coaching and more is Corky's way of saying Mi Casa Su Casa. At any level of surfing everyone will have a surf trip of a lifetime.
Creighton Bellman, Newport Beach, Ca.
Corky and Raquel are the perfect hosts to what, in my opinion, is the ultimate surf getaway. Raquel is a fantastic cook and Corky is, well…. Corky. There is none other. He can improve your surfing with just a few words and make you laugh your butt off with many. It's like staying with friends without the pressure of having to deal with what "they want to do." This trip is all about what "you" want to do. I have come by myself, with my family and with a couple of pals. Each time the adventure was fantastic. Their massage girl, Hilda, is incredible. The neighbor, Timoteo.."the Iguana" Dorsey is an adventure in himself…..you will love him. This is an upscale surf trip for those who want something better.
Reggie Hopkins, Tampa, Florida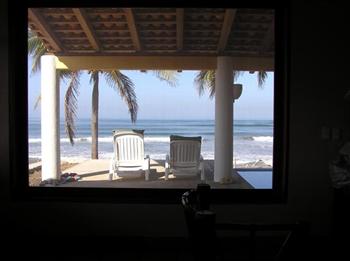 Their home is beautiful, the food is to die for, the surf is incredible, the water is perfect, incredible ocean view, the vibe is tranquil and peaceful, there is everything you need right there and both my wife and I love it. Corky taught my kids to surf and improved my skills in only a few days. We plan on becoming regulars.
Larry Turnbull, Chino, Ca.
After one trip to Corky's house I felt like part of the family. After a dozen I know I am because if I misbehave he makes me sleep with the neighbors goat. Raquel is wonderful and has the best hair in the world. I keep a board there and try to make it at least two to four times a year. You can get in more turns on one wave at that spot than you can in a whole month in Huntington Beach.
Bruce Romano. Huntington Beach, Ca.
It was the best trip we ever had, anywhere. It is sort of like if you were a golfer and got to spend a week at Arnold Palmers house. What would you pay to hang with Arnie, play golf everyday with him and get pointers? And on top of that have his wife cook for you every night and listen to stories about golf that would blow your mind. This is like that for a surfer. Corky is a very fun dude and his wife is not only beautiful but really a sweet person. We became instant friends with both of them.
Mark and Kathy Greenwall. Norfolk, Virginia
"I want to die and come back as Corky."
Bill Klector. Tustin, Ca.
Corky Carrolls Mexico Surf Adventure Trips, all inclusive surf package exclusive to one party at a time.
Come and stay with me at my home on the beach just north of Zihautanejo/ Ixtapa area in Mainland Mexico.
All your meals, drinks, lodging, surfing, one on one coaching from me if you want it,
Pick up and drop at the airport are included.
We have a perfect surf spot and have a pool, satalite tv, wireless internet if you bring a laptop and house staff to take incredible care of you.
Water is 80, air is 80. Tranquil and beautiful.
Rates: One week package are (plus tax. - airfare not included):
$2600 for solo
$3600 for couple, $6800 for two couples
$2000 each for two or three surfers traveling together
$1900 each for four to six (maximum)
kids $1200 under 16
50% deposit holds your space.

Gratuity: Tip the house staff ($10 a day per person or $100 for solo is average).

We still have some great weeks open. When do you want to come. Give me a time frame and I will let you know what dates are free. Let me know asap though as we are filling up fast.
Thanks and adios from paradise
Corky