El Salvador Surf Trip Surf Travel Vacation Destinations from Puntas Perfectas Surf Travel Company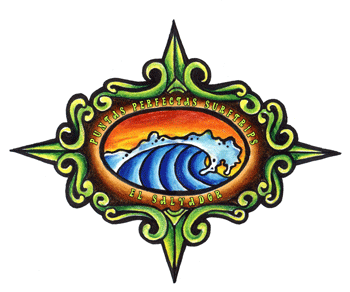 PUNTAS PERFECTAS SURFTRIPS is a guided surfing tours in El Salvador. We provide fully guided surf trips along El Salvador´s pacific coastline.
We are a 100% independent salvadorean company, and pay no commissions, so our prices are extremely competitive.
Our experienced local guides are advanced surfers with intimate knowledge of the vast variety of surf breaks. All our guides have enough surfing experience and hospitality skills to make you have the most outstanding Central American Adventure of your life. We travel too so we know what you are looking on a
Surftrip. We guarantee you the most hassle free trip ever.
El Salvador surfing is roughly divided into 2 surfing zones, LA LIBERTAD area in the Northwest which encompasses about a dozen different breaks of high
quality starting at the coastal town of La Libertad (only a 30 minute drive from the airport) and extending for about an hour's drive northward along a mountainous and scenic coast. The other area is known as the WILD EAST and lies about 3 hours drive south and eastward down the coast. This remote area is less trafficked and boasts the world class righthanders Las Flores and Punta Mango.
Because of its classic point set-ups, El Salvador surfing doesn't close out even on the biggest swells. While at least 2 of the spots could be considered
serious barrels when on, the majority of spots offer classic down the line surfing. Though waves up to double overhead+ are common, gunny boards are
generally not needed. 6-0 to 6-10 thrusters are ideal. Funboards, longboards and fish also work well in the El Salvador lineups. El Salvador's waves are just so lined up and machine-like, with so much open wave face, it is like a skate park.
El Salvador has two seasons: Dry Season (Nov-March) and Rainy season (April-October). The Dry season on summer has solid waves around the 2-4 ft., and the Rainy season which is actually dry and sunny almost every day with occasional storms during afternoons and evenings averages around 6 ft. with days around the8-12 ft. We combine the surftrips with sightseeing
tours like Mayan Ruins, City tour and Eco-Tours like volcano climbing, Canopy over Coffee plantation in the mountains or visits to beautiful lakes.
Direct flights to El Salvador are available from many of the major cities of the United States such as Los Angeles, San Francisco, Dallas, Houston, Chicago, Boston, New York, Washington and Miami through TACA, American Airlines,
Continental, United and Delta also have daily flights from its major Hubs.