El Salvador Surf Trip Surf Travel Vacation Destinations from The Sunzal Surf Company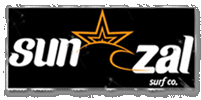 The Sunzal Surf Company is based in Playa El Tunco, an oceanfront village in El Salvador five miles west of La Libertad and home to four great surf breaks. We are all about making surfing travel in El Salvador a great experience for all visitors, including those that are not on an El Salvador Surf Trip but want to enjoy the local culture, food, and ocean experience. This website will help you get to know El Salvador surf breaks, the difference between Playa El Tunco and Sunzal, and services and activities available.
We feature the following key services for surf travelers:
• Multi-country surf expeditions highlighting the best of Central America
• All-inclusive surf trips in El Salvador
• Professional Surf Photography
• Surf Lessons with expert instructors
• Surf Board Rentals
• An internet cafe with air conditioning, surf movies, and music
• Airport/pickup and dropoff
• Travel Information and Advice
• Daily Surf Reports and Local Weather Information
For those already in El Salvador you can book any of our services at the Sunzal Surf Shop/Internet Cafe in Playa El Tunco, across the street from Restaurante Erika's.