Surf Trip Portugal Surf Travel Vacation Destinations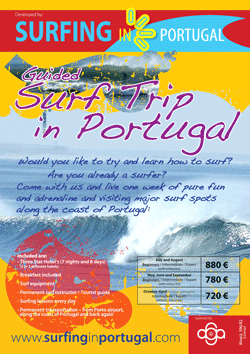 Surfing In Portugal - Guided Surf Trip: This trip will include one week of pure adrenaline!  We will visit major surf spots, along the breathtaking coast of Portugal. Accommodations include: hotels (breakfast included), surf equipment, permanent surf instructors, and transportation from Oporto Airport, along the coast and back again. More From Surfing In Portugal...

Gipsy on the move is a Portuguese surf company based in beautiful Ericeira, Portugal ( the European meca of surf). We provide a complete range of services to fullfill your needs at our surfcamp including surf lessons, surf trips, snow trips, or golf. We have a surf shop with surfboards (low cost) and Tecnic gear you may need. More from Gipsy on the Move...

Surf Trip Photo's: Portugal, Sept. 2007

Find more photos like this on Surf Trip

Surf Trip Surf Travel Video Surfing Tiago Pires, Portugal
Official Name - Portuguese Republic
Founding of the Portuguese State - 1143
Founding of the Republic - 1910
Political System - Democracy
National Symbols - National Flag and National Hymn
Language - Portuguese
Constitutional System - A Republic ruled by a Constitution. The Constitutional System includes the President of the Republic who represents the Portuguese Republic, the Assembleia da República (Parliament) that represents the Portuguese citizens, the Government and the Courts of Law which administer justice in the name of the people and act solely in accordance with the law and whose decisions are binding for all public and private entities. With the exception of the Law Courts, these sovereign organs (excepting the Government) are elected by direct, secret and periodic vote by the people. See Political System
Political Parties represented in the Parliament - Socialist Party, Social Democratic Party, Portuguese Communist Party, Popular Party, Left Block and the The Ecologists Party «Os Verdes».
Territorial Organization - two Autonomous regions, (Azores and Madeira), and 18 districts on the mainland.
Capital - Lisbon
Area - 92,142 km2
Population - 10,536 thousand (2004)
Active population - 5,523 thousand (2004)
Currency - Euro (divided into 100 centimes)
Gross Domestic Product - 135,035 Eur (2004)
Gross Domestic Product per capita - 12,817 Eur (2004)
Language: Of Latin origin, Portuguese is the third most widely spoken European language in the world and is the mother tongue to about 200 million people.
Countries in which Portuguese is the official language: Angola, Cape Verde, Guinea-Bissau, Mozambique, São Tomé and Príncipe in Africa, Brazil in South America and East Timor in Asia. There are also Portuguese-speaking communities in other countries: large communities of recent immigrants exist in Europe (France, Luxembourg and Germany), in the Americas (United States, Canada and Venezuela), in Africa (South Africa) and Australia; there are also small groups of people in the erstwhile Asian colonies.
In Portugal a considerable number of citizens can communicate easily in English, French and Spanish.
International Relations: Portugal has been a founder-member of the UN system since 1945, a founder-member of NATO since 1949, a member of the Council of Europe since 1976 and of the European Union since 1986 as well as a founder-member of the Community of Portuguese Speaking Countries since 1996.
Portugal maintains diplomatic relations with over 180 countries across all continents worldwide.
Religion: The Portuguese people are mainly Roman Catholic but the Portuguese Constitution guarantees religious freedom, resulting in the presence of various different religions in Portugal: Christians ( Protestants of various denominations and Orthodox), Muslims, Hindus, Buddhists, Jews, etc.
The mainland is home to Fátima, one of the greatest Roman Catholic sanctuaries of the world.
Map of Portugal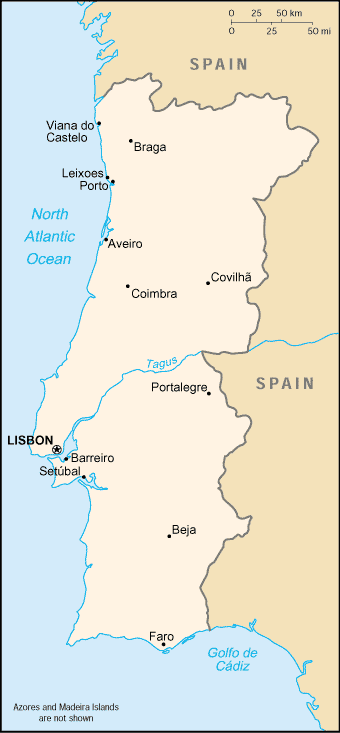 Portugal Surf Travel Map
Back to Europe Surf Trip Vacation Destinations Travel Directory...