Sumatera (Sumatra) Surf Trip Vacation Destinations
Surf Sumatera: Mentawai Islands, Nias.
Surf Trip Video: North Sumatera (Sumatra), Indonesia
The Riau Archipelago:
Its waters are the backyard of native seafaring nomads who fish and trade for a living. Their traditional wooden sailing craft, called pinisi still dot the forested channels of these islands, along with other indigenous craft, fishing vessels and cargo ships which call at the archipelago's main town and port of Tanjong Pinang.
Tanjong Pinang lies on the largest island of the archipelago - Bintan. Once known as Riau, it was the heart of an ancient Malay kingdom. Today, Bintan is the latest hot spot of development in Indonesia's surging economy. A master plan is underway to turn it into a major tourist destination. Barely an hour away from Singapore by ferry, tourist accommodation has begun to appear to take advantage of its getaway-from-it-all appeal.
Sumatra offers outstanding trekking, rock climbing, white water rafting, surfing, sailboarding, eco tourism, cruises & sailing and scuba diving.
Accommodation:
Mid-priced hotels at Padang. Hotel Batan Arau (http://www.sumatransurfariis.com/about.html), Bumi Minang Hotel (http://www.bumiminang.com/)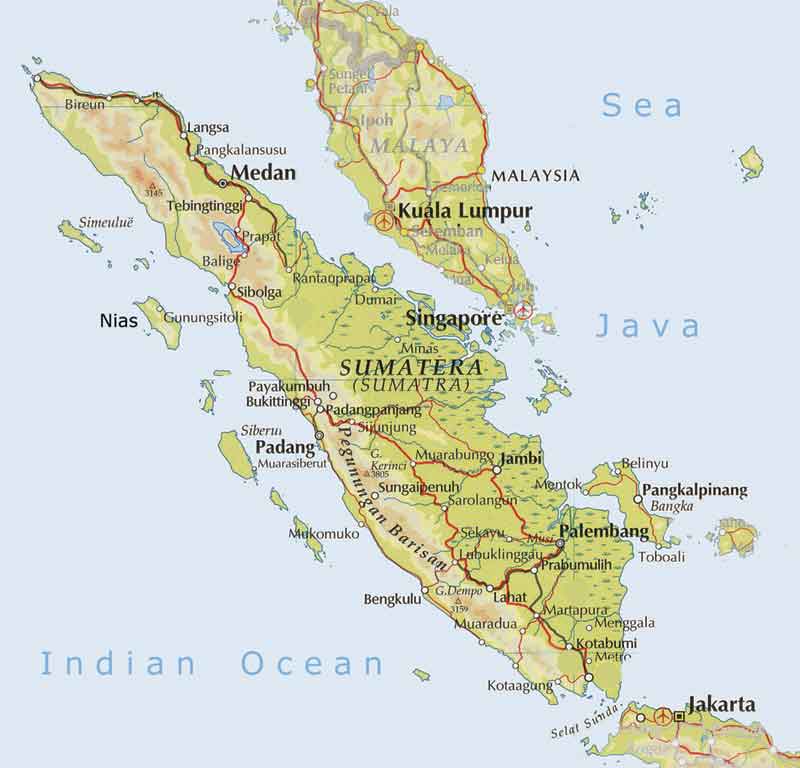 Map Of Mentawai Islands and Sumatera (Sumatra) Indonesia.
---
Airlines Serving Sumatera
Flights: Direct from Singapore, Kuala Lumpur and Penang to Padang and Banda Aceh. Direct from Tanjung Pinang (Bintan) and Batam to Jakarta, Pekanbaru and Medan
Singapore Airlines - Singapore's national carrier. Site includes information on routes, schedules, inflight dining, and online reservations. No Charge for Surfboards! Call customer service for best airfares.
Sea: Direct ferry links Tanjung Pinang and Teluk Sebung (Bintan) to Singapore.
Land: Mini buses available for hire at Tanjung Pinang, Padang, Banda Aceh. Accommodation * Four-star hotels and resorts to mid priced cottages on Bintan and Batam islands.