Hawaii "Big Island" Surf Trip Vacation Destinations
Surf Hawaii: (Hawaii "Big Island"), Kauai, Lanai, Maui, Molokai, and Oahu
Hawaii's Big Island is the youngest and largest of the Hawaiian Islands with 4,028 square miles and it's still growing as long as lava continues to pour out of Kilauea, the world's most active volcano. It has 266 miles (428 km) of coastline.
Hawaii's Big Island stretches from sea level to the volcanic peaks of Mauna Kea, 13,796 feet (4,205 m), and Mauna Loa, 13,677 feet (4,169 m). Hawaii's Big Island has the Islands' highest lake, Lake Waiau, at 13,020 feet (3,969 m) above sea level; the state's longest sheer drop waterfall, Akaka Falls, 442 feet (135 m); the southernmost tip of the United States, Ka Lae (South Point) and the tallest mountain measured from the ocean floor, Mauna Kea.
Of all the islands, Hawaii's Big Island is the most ecologically diverse, with natural environments ranging from the desert plains of Ka'u to the rain forests above Hilo, to snowcapped Mauna Kea. There are said to be 13 climatic regions on earth and the Big Island has all but two, the Arctic and the Saharan.
Hawaii Surf Report / Hawaii Swell Model

Surf Trip Surf Travel Video: Surfing The Big Island, Hawaii
Big Island Surf Spots: Kohala Lighthouse, Banyons, Pine Trees, Mahai'ula Bay, Pohiki, Lymans, Honls, Coast Guard, Honolii, Kahalu'u, Magics, Napoopoo Beach, Hapuna, 69s, Honoli'i, Ke'ei (shark Point)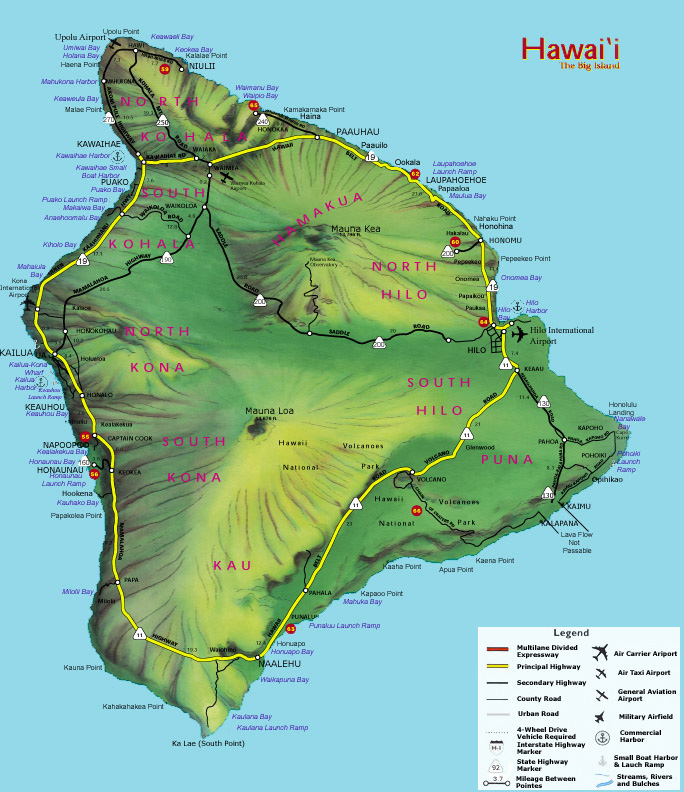 Hawaii "Big Island" Map - Click to Enlarge
Hawaii Vacation Rentals
"The Big Island" - Includes Hilo/Kailua-Kona/Waikoloa
---
Airlines to Hawaii, Honolulu Int., Hilo Int. and Kona Int.
Airlines to Honolulu International Airport
Airline to Hilo International Airport (ITO)