Oahu Hawaii Surf Trip
Oahu is the third largest island in the Hawaiian Island Chain. It is nicknamed "the gathering place" and definately lives up to it's name. Every winter thousands of surfers from around the world migrate to the North Shore prove themselves in the challenging surf.
The Island of Oahu has four main surfing regions: "The North Shore", The south shore "Town", The east side "Winward" and "The Westside".
The North Shore, aka "The Seven Mile Miracle" is the mecca of the surfing. From Haleiwa to Turtle Bay you'll find more waves than anywhere esle on the planet. From the well known spots like "Wiamea" and "Pipeline" to the lesser known "secret" spots, you can get the waves of your life. The winter months are the prime swell months but there can be the rare summer swell as well. Crowds are heavy during the winter which can make it tough to get waves. Don't be a kook! The locals are tough! Be respectful and you shouldn't have any problems. Many of the traveling ASP World Tour Pro Surfers will sell there surfboards on consignment in the local Haleiwa shops. Therefore, is usually a good selection of used surfboards available. Look for boards from the local shapers. The North Shore waves are unique and the local shapers have the experience to make boards that work well. Plus, it helps with the locals if your riding a local shaper. Remember, The "North Shore" eats surfboards! Avoid driving on Kam highway Friday through Sunday if there is a swell. It's only a two lane and the traffic gets so bad it can take 2 hours to drive from Haleiwa to Sunset. If your there in December be sure to check out the Billabong Pipepline Masters.
The South Shore "Town": From Sandy Beach to the East and Barber's point to the west the south shore has it's fair share of waves. The prime time for the south shore is summer. Exposed to south swells "Town" is dependent on souther hemisphere swells. Beginner waves are available in Waikiki and during a large south swell more challenging wave like "Ala Moana" come to life. Crowds are heavy.
The East Side "Winward": The east side of Oahu is absolutely beautiful, lush and green. The prevailing trade winds are onshore most of the time on the east side. The good thing is that there is usually trade wind swell to surf if the North Shore is flat. Occasionally, the trades winds switch directions and you get "Kona" winds which blow offshore on the east side. When you get Kona winds with a good swell head to the east side.
The "Westside": The west side is the leeward side of the island and is very dry. There are some good surf spots on the westside and the wind is always offshore. However, the spots are heavily crowded and localized.
Read The SurfTrip .com North Shore 2007 Surf Trip Review.
Surf Trip Surf Travel Video: Pipeline, North Shore, Oahu, Hawaii
Oahu Surf Spots: Stables, Ranches, Secrets, Irmas, Our House, Pupukea, North Beach(Pyramid Rock), Sandy's Beach, China Walls, Aligator Rock, Zombies, Walls, Kaisers, Cromwells, Pipeline, Waimea Bay, Lanikai Reef, Point Panic, Kewala Basin, Queens, Rocky Lefts, Makapu'u, Fort Hases, Ehukai, Graveyards Goat Island, Flies (Incinerators), Rice Bowls, Canoes, Yokohama Bay, Lahilahi Point, Tumbo Land, Off the Wall, Ala Moana Bowls, White Plains Beach, Bellows, Kabanas, Threes, Rec. Center, Rockpiles, In Betweens, First Hole, Consessions, Shallows, Bumburas, Chuns Reef, Velzy Land, Turtle Bay, Leftovers, Laneakea, Point Panics, Magic Island, Cliffs, Oils, Tongg's, Puaena Point, Nanakuli Tracks, Barber's Point - Coast Guard Jetty, Makaha, Baby Makapuu, Radicals, Wench, Backdoor, Oneula, Uppers, Haleiwa, Sunset Beach, Mokuleia, Pounders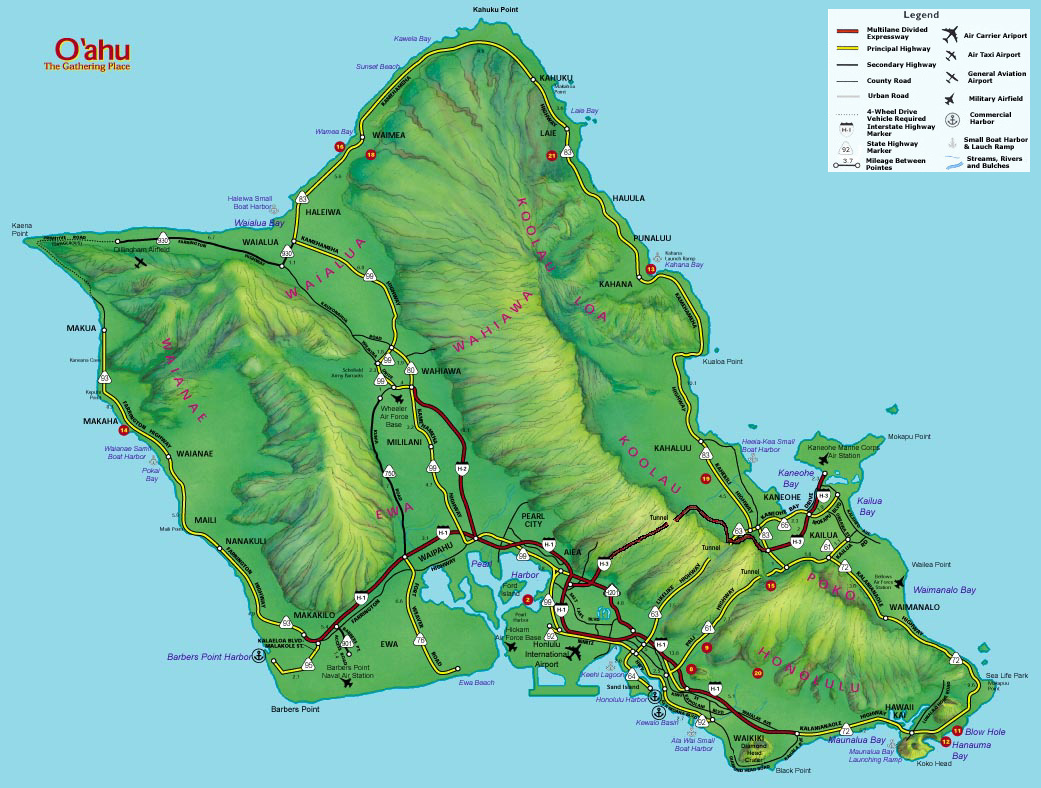 Oahu Surf Map - Click to Enlarge
---
EDDIE VEDDER JOINS JACK JOHNSON AT THE
FOURTH ANNUAL KOKUA FESTIVAL

APRIL 21st- 22nd • WAIKIKI SHELL • OAHU
Honolulu, Hawaii - February 2, 2007 - Hawaii's own, Grammy-nominated musician Jack Johnson is proud to host the Fourth Annual Kokua Festival on Earth Day weekend- April 21st and 22nd, 2007 at the Waikiki Shell in Honolulu, Hawaii.

The festival's incredible music line-up includes Jack Johnson, Eddie Vedder and Boom Gaspar of Pearl Jam, young troubadour Matt Costa, and local Island favorites: Ernie Cruz Jr., and the Girlas.

Tickets are $40 for general admission/lawn, $50 reserved seats, $125 in the seated pit area, and $20 general admission for children 3-12. Children under 3 are free.

FEBRUARY 6th: Pre-Sale Tickets will be available exclusively to Kokua Hawaii Foundation members who sign up by February 6th! Go to www.kokuahawaiifoundation.org to become a member today!

FEBRUARY 10th: Tickets to the general public will be available via Jack Johnson's web site www.jackjohnsonmusic.com

FEBRUARY 15th: Tickets to the general public will be available via Myspace www.myspace.com/kokuafestival

FEBRUARY 17th: Tickets to the general public will be available at all Ticketmaster outlets, online at www.ticketmaster.com or by phone at (877) 750-4400

All proceeds go to the Kokua Hawaii Foundation, a non-profit organization that supports environmental education programs in Hawaii. The funds raised from the Kokua Festival will be used to further support school recycling on Oahu, sponsor field trips and curriculum, and develop the new farm-to-school program 'AINA in Schools.

The Kokua Hawaii Foundation thanks Patagonia , Simple , Stonyfield Farm , and many other like-minded companies and organizations for their support! The Kokua Festival is produced locally by Pau Hana Productions with additional coordination by MusicMatters.

For more information please visit www.kokuafestival.com.

Back to Hawaiian Islands Surf Trip Desitnations
Oahu, Hawaii Surf Trip Surf Travel Destinations