North Shore, Oahu, Hawaii 2007 Surf Trip Surf Travel Review By SurfTrip.com
Surf Trip Surf Travel Video Surfing Pipeline Surf Video - North Shore Oahu. Feb. 15th, 2007. Big West Swell

Feb.13th to Feb. 20th, 2007. North Shore, Oahu, Hawaii Surf Trip. Family of 4: Total Cost $4350.00
Airlines: Aloha
Car Rental: Thrifty
Beach House: Kawela Bay, North Shore, Oahu, Hawaii.
Surf: 1 to 12 ft (Hawaiian) with Strong Trades most of the time.
Favorite Places to visit: Haleiwa Cafe, Motsumoto Shave Ice.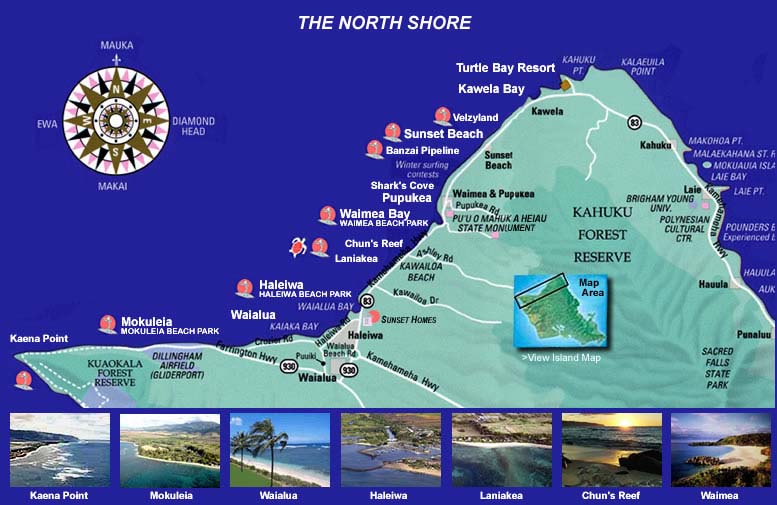 Oahu Hawaii, North Shore, Map. Click to view full size

North Shore of Oahu, Hawaii - This was a family surf trip with my wife and our two boys. We had once lived on the North Shore and this would be our first return trip since moving back to the mainland. We were exited and anxious to return to the North Shore to see how it had changed and to re-live the times when life was simpler. What we found is that the crowds are thicker, the houses are bigger and the traffic is horrible but the surf is still phenomenal.
We decided to take an off season trip because Airfare was relatively cheap and kids were in school which would keep the crowds down to a minimum. We chose Kawela Bay because it is beauty, remoteness and proximately to Oahu's prime north shore surf spots
Kawela Bay is a secluded paradise on the North Shore of Oahu, Hawaii
Kawela Bay is a secluded paradise on the North Shore of Oahu, Hawaii. We found our rental by googling "Kawela Bay". This Kawela Bay Beach House was perfect for our surf holiday experience to the North Shore. This lovely beach house is located in a community that is away from traffic and crowded beaches. There is a grassy, tree shaded yard that extends down to a white sand beach. Kawela Bay, is just around the corner, with it's calm blue waters, which offer safe swimming and snorkeling year-round..
Our Kawela Bay Beach House vacation rental was one of two rentals which share the same property. Each rental has two bedroom, and two baths with a second story Lanai with views of the Pacific Ocean. The decor is comfortable and casual, with a fully equipped kitchen and laundry facilities. Each vacation rental is perfect lodging for one or two families or a group of three couples. Check out the pictures of the Kawela Bay, North Shore, Oahu, HI, Beach House... For More pictures and Booking information visit Aloha Lion.
Kawela Bay Beach is fifty minutes from downtown Honolulu, fifteen minutes from the North Shore's Haleiwa Town, minutes from Sunset Beach and Pipeline Beach, fifteen minutes from the Polynesian Cultural Center and adjacent to the Turtle Bay Resort and its restaurants, tennis complex, horseback riding and golf courses.
Choosing and Airline
Finding the cheapest Airfare can be challenging. Start with AAA or Costco to get an idea what the cheapest rates will cost. Rates will change daily depending on the number of seats available. Once you narrow down which airline has the cheapest rates, call the airline direct to see if you can improve on the rate. An additional factor to check is "How much the airline charges per surfboard".
For this trip we flew on Aloha Airlines. The rates were competitive and they offer direct flights out of our local airport. Our departure was delayed by 6 hours for which we were notified in advance. However, there was no compensation offered for this inconvenience. The in flight service was standard and the food served was less than par except for fresh chocolate chip cookies and milk. Plan ahead and bring your own food. No liquids allowed! Not even water.
Aloha Airlines charges $50.00 per board each way which can be expensive. When asked how many boards, I was honest and replied "Three, but only one if your not going to check", and was charged for two on the way and only one on the way back. Hey, that's $150.00 savings.
Choosing A Rental Car
Rental Car Rates, can vary significantly depending on the Rental Car Agency and which web site you use to book the car. The best rate was from Thrifty Rental cars through Rental Car Mama located on the surftrip.com rental car section. We saved over $200.00 off of comparable rentals from different companies. Thrifty's shuttle service was great and the office is located close to the airport which was very convenient. Our car was in great condition and the service at Thrifty was very good.
Surfboards and Surf Spots
My Tim Stamps EPS Surfboards were flawless as usual.
I rode the 7'0" at Sunset on a decent size day and it worked great with no hesitation or sketchy ness off the bottom. I was under gunned for the sets so I was forced to surf the inside bowl, for which I took a couple sets on the head before I got a good one. A lot of guys sit on the shoulder and make it hard to catch one for yourself. If you paddle inside you can get the one to yourself but watch out for the sets and west peak.
I never rode the 6'8". I brought it to surf Rock Piles, Rocky Point, Laniakea, or a couple other lesser know spots. However, the trade winds were really strong when the swell was the right size, so it got jipped.
The 6'6" EPS Epoxy saw the most action. I surfed it out at V-Land, Val's Reef, Small Rock Piles and a lesser known spot on the downside of the North Shore. This Stamps epoxy surfboard continues to impress me with it's maneuverability and performance due to the low volume and buoyancy.
Surf Conditions
We were lucky enough to be there for one of the best swells of the winter which hit on Feb. 15th, 2007. The waves went from flat to 12' plus overnight. Check out this video I shot from Off The Wall. It's not the best angle but the surf is impressive.
Surf Trip Surf Travel Video: Surfing Pipeline, North Shore, Oahu, Hawaii Feb 15th, 2007

The Swell backed down over the next few days but we were plagued with strong trade winds which limited the number of surfable spots and increased the crowds at the cleaner breaks.
Favorite Places to Visit on the North Shore of Oahu.
Haleiwa Cafe: Not much has changed at Haleiwa Cafe over the last 10 years. The food is still great and the service is warm with aloha. It has got to be one of my all time favorites. Don't visit the north shore without stopping by Haleiwa Cafe. Try the Breakfast in a barrel with Portuguese sausage its so good. I also had the steak and egg breakfast which was ono.
Motsumoto Shave Ice: The Mecca of Hawaiian Shave Ice. There are several other places within walking distance that serve the same shave ice but everyone goes to Motsumoto's. On the weekends the line can stretch over 100 deep. However, the line moves fast and the shave ice is cool and sweet.
Back to Surf Trip .com Surftrip Destination Reviews or Visit the Oahu Surf Trip Destination Section