Costa Rica Surf Trip Destinations
Jim Hogan Surf Camp Costa Rica


Surf Trip Surf Travel Video Surfing Playa Negra, Costa Rica
10 Things You Didn't know about Costa Rica:
1) Costa Rica (Spanish for "Rich Coast") is located between Nicaragua and Panama in Central America.
2) Its 50,000 square kilometers makes it a little bigger than Switzerland. Its length is about 500 km. and width about 150 km. The highest mountain, Cerro Chirripó stands at 3,820 m. or about 12,000 ft. high. The coastline has a length of almost 1,300 km which include three peninsulas (Osa, Nicoya, and Papagayo).
3) About one sixth of the Costa Rica's territory has been set apart for national parks or wildlife refuges (that's more than half of the inhabitable territory of Switzerland).
4) The country also includes famous Cocos Island, found 500 km off the Pacific coast.
5) There are several active volcanos here: Irazú, Poás, Rincón de la Vieja and Arenal, the most active of all with eruptions every 15 minutes.

6) Ten percent of the country's 4 million inhabitants live in San José, and more than half of the population live in the Central Valley.
7) Eighty percent of the population is of Spanish origin. Most of the black and mulatto populations (7%) live in or around the harbor town of Limón on the Caribbean.
8) About 40,000 Indigenous live mostly in isolated forests.
9) At the moment, some 250,000 foreigners live in Costa Rica.
10) Costa Rica is a founding member of the United Nations since 1945.
Costa Rica Beach Map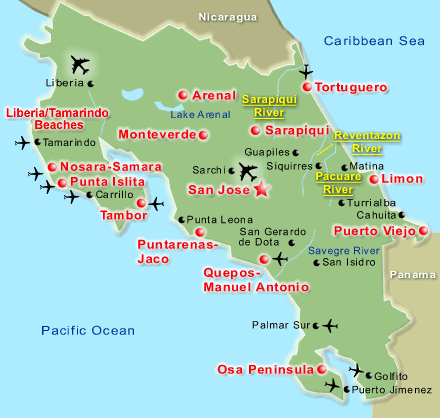 ---
Costa Rica Vacation Rentals, Homes, Villas and Condos.
---
Costa Rica Travel Info:
International flights arrive at San José's Juan Santamaria international airport, and Daniel Oduber International Airport in Liberia, 217km (135mi) northwest of San José, and near the beaches in Guanacaste, now operates as a second-string international airport. There are good connections to US, Canadian cities and several European and South American countries. There is a departure tax of around US$26.00 on international flights Air Connections
The most convenient way to reach Costa Rica is by air.
Commercial international flights to Costa Rica currently land either at the Juan Santamaría International Airport, located ten miles from downtown San José, or at the Daniel Oduber International airport in Liberia, Guanacaste. Costa Rica is serviced by numerous major carriers, with service originating from various points in Europe, the United States, Canada, the Caribbean and South America. Airlines with direct flights to Costa Rica include Continental, American, Delta, United, Iberia, KLM, British Airways, Grupo Taca, Copa, Cubana, Avianca, and Mexicana.
Entry Requirements
Citizens of the USA, Canada, Argentina, Israel, Japan, Panama, Romania, South Korea, Uruguay, the UK and most Western European countries do not need a visa for a 90-day stay. Citizens of Australia, New Zealand, Eire, France, Sweden and most of Eastern Europe and Latin America, can stay 30 days without a visa. If you do need a visa, it will cost US$20 from a Costa Rican consulate.
---
Airlines Serving Costa Rica:
---
Costa Rica Travel Agencies:
Alacran Surf: surfing, hotels, house's, 4x4's, honeymoons, sport fishing, adventures, family travel, in Costa Rica.

Costa Rica Surfing: Costa Rica Surfing-Beach House Vacation Rental on Playa Negra Beach-A Surfers Dream
Costa Surf Cruise: Surf around Costa Rica sailing in a 60 foot catamaran---6-day trips.
Ferrari's Surf Resort: A surfer's dream vacation come true. Playa Grande by Tamarindo is among the world's best travel destinations for consistently great sun, sand, surf. and eco-tourism. Ferrari's is more than a "surf" camp, school or hotel.
Jim Hogan Surf Camp: We offer you the very best surfing,
fishing & tours available in Costa Rica
Surfex: Packages to: Nicaragua, Galapagos, Barbados, Costa Rica, Panama, Cabo, El Salvador and more.

Waterways: Surf adventures to Samoa, Panama, Tahiti, Indo, Maldives, Mex, Fiji, NZ, Peru, Tonga, Costa Rica and more.

Witches Rock: Surf Costa Rica, Tamarindo to Witches Rock, packages start at $287

PuraVida Travel: Offering online booking to hotels, beach vacations, and adventure travel. www.costaricabeachvacation.com

Zarpe Travel: Specializes in vacations planned by the client. www.costarica.org
Zopilote Surf Camp: The Zopilote Surfcamp is located in Playa Hermosa on the Nicoya Peninsula in the northern pacific coast of Costa Rica.

YEESS Travel: Provides flights to Costa Rica, as well as car rentals, hotel information, and more. www.yeess.com

Apartotel Maria Alexandra and Travel Agency: Services include lodging in an exclusive Aparthotel located in the Escazu area, Harley-Davidson tours, beach tours, rafting, and much more. www.mariaalexandra.com
Costa Rica Travel Site: Travel agency with information about hotels, car rentals, tours, rafting, sportfishing, diving, volcanoes, etc. www.crtravelsite.com
Live in Costa Rica: Relocation and retirement consulting and tours for those interested in moving to, or staying long-term in, Costa Rica. www.liveincostarica.com

Miki Travel: Tours and custom made packages to Costa Rica and Cuba. www.mikitravel.net

AAA Tour and Travel Agency: One day and multi-day tours to: Arenal volcano, tortuguero, and other national parks. Hotel bookings, river rafting and island cruises also available. www.aaatours.net

Asuaire Costa Rica: Descubra Costa Rica con nuestro especial sistema de organización de viajes, que le ofrece la posibilidad de planificar su estancia en el país de forma personalizada e independiente. www.asuaire.com

Lynch Travel Quepos: Travel agent and tour operator specializing in tours and bookings within Costa Rica. www.lynchtravel.com

Get 2 Costa Rica: Make reservations for hotels, rental cars, tours, and more.
www.get2costarica.com
Adventure Travel Agency: Offers information and reservations for hotels, tours, car rentals, transfers, and complete travel packages. www.traveltocostarica.net

Costa Rica Discovery: Offering tours, reservations, resorts and more. Searchable by regions within Costa Rica. www.costaricadiscovery.com

Miki Travel Agency: specializing in vacation, medical, and business packages.
www.arweb.com/miki

Desafio Adventure Company: Travel agency with offices in Monteverde and Arenal. Desafio Adventure Company arranges hotel rooms and transportation within Costa Rica, also operating horseback riding and rafting tours. www.monteverdetours.com
---
Costa Rica Resorts
VOEC Womens Surf Camp in Costa Rica, combines surfing, yoga, spa therapies, gourmet cuisine, and a bit of adventure to create a delightful escape that will leave you revitalized and inspired. www.voecretreats.com