WavePark, Mentawai, Sumatra (Sumatera) Indonesia 2005 Surf Trip Surf Travel Review
Surf Trip Surf Travel Video: Jason Hennessey, SurfTrip.com Editor, Surfing WavePark, Mentawai Islands, Sumatera (Sumatra), Indonesia in 2005. This video was converted from DVD vob to mpeg format for editing.

Find more videos like this on Surf Trip
WavePark Mentawai • Surf Trip .com Recommended!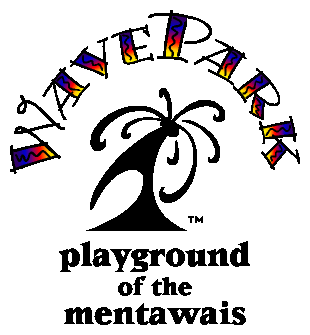 WavePark Overview: Considering the geographic location and logistical hurdles to get supplies and raw materials out to the islands, Christie Carter has built a comfortable, full service resort for surfers on the island . Power is available 24 hrs a day via (2) generators. The facility consists of a large three story losmen, water closet, restaurant and bar and two outdoor showers. The losmen is located to the south and is joined to the water closet, restaurant/bar and showers via coconut lined, scenic, crushed shell paths. The path meanders for approx 50 meters through Coconut and Kentia palms until you reach the water closet (Toilet). The restaurant is another 15 meters down the path and the showers are adjacent to the restaurant. The beach out front is spectacular with fluffy white sand and warm, turquoise blue water. Snorkeling is excellent from directly in front of the losmen all the way down to the point at Hideaways. At low tide you can walk around the island in about 90 minutes. There are two speedboats available to shuttle guests to different surf spots and break up the crowd if necessary. All meals and beverages are provided and the portions are large and the food is excellent. Beer and cocktails will run you extra so either plan accordingly or abstain.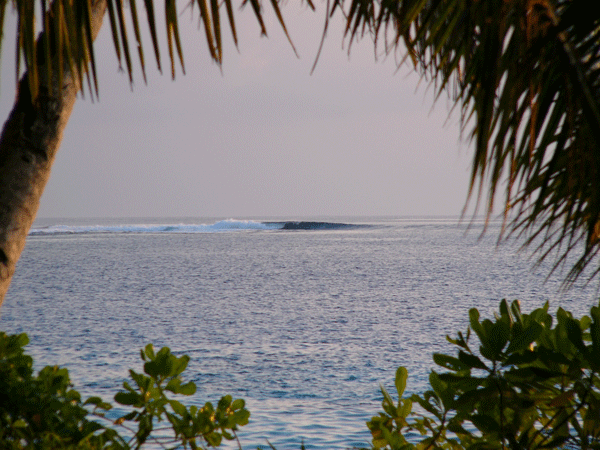 Booking the WavePark Mentawai Surf Trip: Alice (alice@wavepark.com)
Booking an Airline: Singapore Airlines is recommended from the US. There is no charge for surfboards and the in flight service is excellent.
Surfboards: Choosing the correct boards can make or break your trip. This decision is highly dependant on your preferences and ability. The surf is typically overhead, fast and hollow, which is why we want to surf in the Mentawai's. You can get away with shorter boards in larger surf because the waves are so perfect. However, the waves can get small and you should have a good small wave board as well. Additionally, if you break your primary board, as I did on the third day, you should have a good back up. We would recommend (2) high performance short boards, (1) small wave board and (1) small gun for larger surf. Board lengths will vary with your ability and stature. Boards with removable fin systems are easier to pack. My Surfboards by Tim Stamps Worked Insane! Check out My WavePark Mentawai Surf Trip Photo's. Read the Boarding .com "Shaping an EPS Epoxy Surf Board with Tim Stamps" article.
Packing Surfboards: A travel board bag is a must. For those of you that have swimming pools and are know what "fun noodles" are, they make great packing for the rails of your surfboards. "Fun Noodles" are basically a thick, high density foam cylinder, similar to pipe insulation. Carefully slice along one side and wrap the rails with the insulation and tape to the board. Once wrapped the boards should stack together neatly. Tape tow of more together to keep from shifting during transit. REMEMBER - once in transit you will not have access to your board bag until you reach Padang.
Packing General: Travel Backpack, Suitcase on Wheels, Travel Board Bag: Backpack (carry-on) - pack your personal items, and a change of clothes in your backpack or carry-on. Suitcase: pack the bulk of your clothes in vacuum seal able travel bags which compact space and keeps them dry. The vacuum bags will make a nice place to put your sweaty, dirty clothes once your on the island and keep your clean clothes ...clean. Plus, all your surf accessories and heavy items. It makes it a lot easier if you don't have to lug around a huge, heavy backpack every time you have to get off the plane. REMEMBER - once in transit you will not have access to your board bag until you reach Padang. If you chose not to check in a suitcase, you can pack the bulk of you clothes in your board bag. Keep in mind that this adds a lot of weight.
Indo Travel: Get to the airport early to make sure you get your check-in luggage scanned. If you fly Singapore you can check your luggage all the way to Padang. However, you will not have access to your luggage until you reach Padang. I flew Singapore, flight SQ29 from LAX to Singapore, leaving LA at 1:05 AM, with a stop in Taipei Taiwan - arriving in Singapore at 11:35 AM the next day - duration 19.5 hrs. Then there was the 2.5 hr layover in Singapore. From Singapore I flew Silk Air flight MI266 to Padang - duration 1 hr and 5 min. Total travel time 23+ hours.
Once in Padang: In padang, you must go directly to customs. Here you will need to pay for your 30 day visa and have your baggage checked. Upon exiting the plane you feel the wall of heat hit your face. It felt good to be back in the tropics. As you exit the plane there is a shuttle bus waiting to take passengers the 50ft to the customs and immigration building. The immigration building is small, crowded, hot with 100% humidity. Controlled kaos ensues as you now must pay for your visa and wait for your checked in items. There will be locals there to carry you luggage for tips. Some people tip and some don't. Americans usually feel obliged to tip but it is not required. Once you have paid your visa, and had your baggage cleared by customs, you will be met by a WavePark representative to transport you to a hotel in Padang. Two choices for a hotels the small but quaint Hotel Batan Arau (http://www.sumatransurfariis.com/about.html) or the larger, 4-star Bumi Minang Hotel (http://www.bumiminang.com/). We stayed at the Hotel Batan Arau and had a great experience. The owners are really cool and the place has ambiance. It's a great place to relax after a long journey and get into the surf trip groove. Plus, they have the coldest and cheapest beer in Padang.
Don't forget to pick up last minute things in Padang if you have time. Stock up on snacks and beer to take to the island. Beers are $2 each at the WavePark and that can add up over a couple of weeks.
Getting from Padang to WavePark: Well, you have options depending on your budget, patience and sense of adventure. Option (1) The slow overnight ferry. Included in WavePark price and most reliable. I did not travel on the ferry. However, the word is that this is the least popular. Option (2) The fast ferry. Its the most expensive and somewhat unreliable. Option (3) Hire the Speedboat "Liberty" at $400 US per crossing. We chose to hire the speedboat and split the cost between six people. This would allow us to get to the island earlier and get an extra day of surf. There was a good swell running and it was worth the extra money. NEW! Air Service to the Mentawai's. Read More...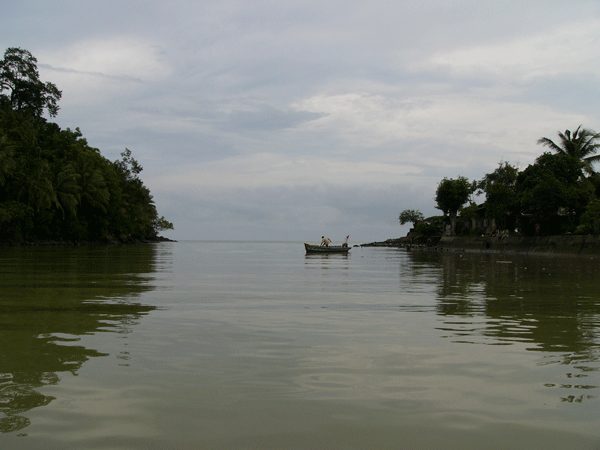 On Board the "Liberty" heading out of the river/harbor towards the Mentaiwais, hoping the weather stays calm.
On the day we were to take the speedboat "Liberty" across the channel, the weather was not cooperating. She had crossed the channel from the Mentawai's that morning bringing a few patrons back from the WavePark and the weather was rough and wet. So, Gindut, the Captain, was tentative about making the return trip. We were on and off again until around 1PM. Then, the weather cleared and it was go time. We were eager to get into some waves after 4 days. It's a long crossing, approx. 85 miles for the small vessel and the weather has to good for it to be safe. So we were off... and it was a long boat ride. At the midway point, no land is visible in any direction. Then, after about 4.5 hours you can begin to see trees stick up on the horizon. The playground area is comprised of six close proximity islands. The excitement continued to build as we approached the Island. We arrived at at dusk and it was spectacular. We can see waves breaking at Hideaways so we know there is swell. As we get closer, the losmen is visible from the water. Then, as the boat approaches the island the water changes from a deep blue to a light turquoise. There is a greeting party on the beach waiting for your arrival. Gindut pulls the boat up on the beach and we can't wait to get off the boat. The first step into the clear, turquoise, warm water is exhilarating. Finally, were here, now lets surf!
The WavePark Surf Resort:
The losmen: is a newly built three story building located right on the beach with a great view of Hideaways left and the sunset over the adjacent island. The bottom floor is open and used for surfboard storage and provides shade for the ping pong table. Access to the first floor is via a staircase with bamboo railing. The staircase opens into a spacious Lanai , which is a popular place to sit and watch the surf, talk story and read. The rest of the second floor consists of 3 rooms which spaciously sleep two occupants each. The third floor is accessible from a staircase rising from the 2 nd floor lanai. The third floor has two rooms, which again sleep two occupants each. Additionally, there is a small lanai which again has a great view of the west. The second floor rooms tend to be cooler during the day. The third floor has more privacy but it can get hot during the day and the roof is noisy when it rains. All windows are open which allows for the breeze to blow through. If you're a light sleeper bring ear plugs. Overall, it's a very nice, comfortable facility. All beds have mosquito nets and the linens are changed daily. Each room has a ceiling fans and a floor fan. Laundry service is available for a small fee.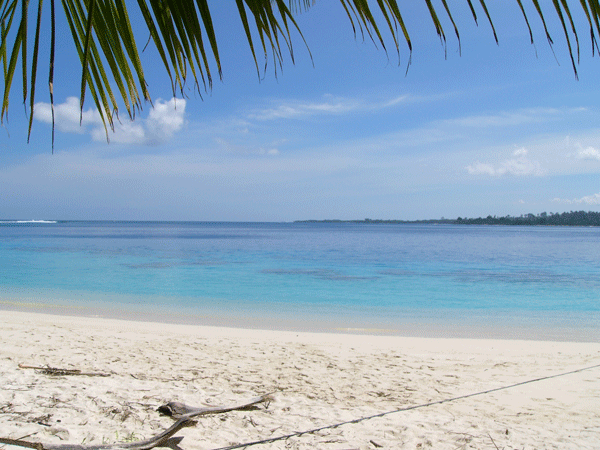 WavePark Bath and Restroom Facilities: The water closet/restroom is elevated on stilts and has walls, a locking door and an open window with a curtain. Below the window is a counter and a sink with running water. The room is equipped with a western style western style toilet with a very of Hideaways with the curtain open. The restroom has lights for the night time visits. Remember to wear mosquito repellent and protective clothing because the little buggers are aggressive.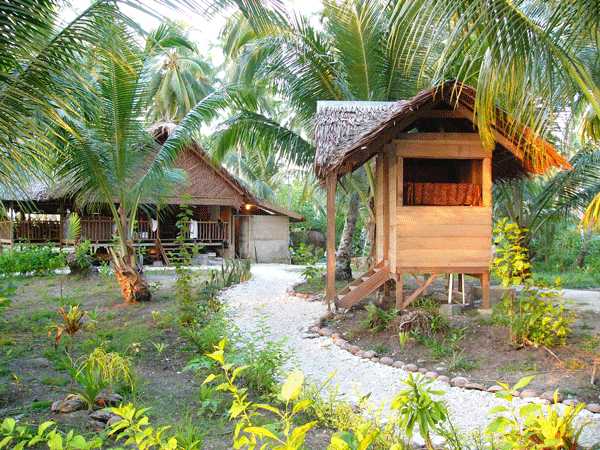 WavePark Restaurant and Bar: The Restaurant is a spacious and airy building with open walls, vaulted bamboo and palm fawns ceilings and entrances on three sides. The kitchen is joined to the restaurant on the east wall. Meals are served at the standard designated times. However, if you are off surfing, they will save your portion until you return. The food is excellent! The typical breakfast always involves coffee, water, juice and fresh fruit with some combination of pancake, French toast, cereal, oatmeal, etc. It's a great way to start the day. Lunches were typically high-carb meals to replenish your energy from the pre and post breakfast surf. The menu would range from grilled tuna burgers to local meals such as nasi (rice) or mie (noodle) goreng (in a sweet sauce and covered with a fried egg) to traditional Sumatran food. On most nights we were lucky to have fresh fish for sashimi appetizers and fried fish to go with the meal. The menu would range from Pizza to hamburgers to spaghetti to traditional Indonesian and Sumatran foods. The Bar is roughly one by two meters with a decorative wood top and bamboo trim. There is refrigerator to keep the beer and sodas cold and a sink to wash dishes. The bar was a great place to hang out and have a couple of beverages before dinner and talk about the days surfs.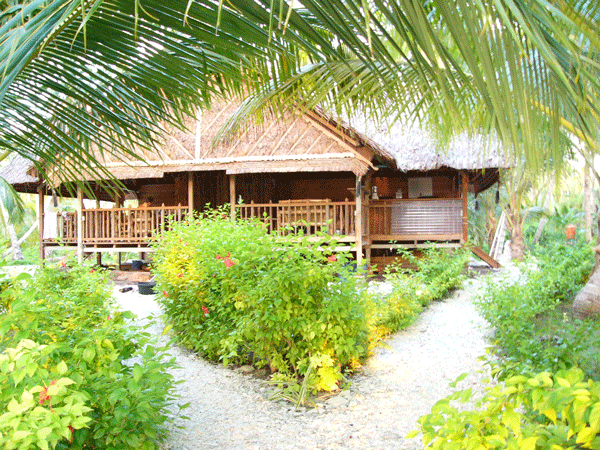 WavePark waves in the Playgrounds Vicinity:
Hideaways (Right out Front): Good left hander breaking on a mean, shallow, live coral reef. Best on a medium low tide going high. Low tide looks tempting but it empties onto dry reef. Two takeoff zones; Sit deep and back door the bowling takeoff but watch out for the wide ones because they will get you. Or sit wide and race the shoulder down the reef. The wide ones have a few warbly sections and break in shallower water, but also tend to be longer.
(The Next Island to the West)
Nupussi's or Tikis: Right hander on a fairly mellow coral reef . This spot pulls in a lot of swell and is usually fairly crowded when the swell is small. On smaller days it breaks on an inside shelf providing for a fast, workable shoulder. On bigger days its a fat right peak which pushes into the channel. Catch the right one and get a couple of turns in before it mushes. Watch for the cleanup sets!
Bank Vaults: Very consistent, Good right hander breaking on a relatively mellow reef. There are a few takeoff spots depending on the swell and your bravado. Sit deep and look for one that raps around the reef. Sit in the middle zone and pull into a thick bowl or sit wide and catch the bigger ones but get out before it closes out on the inside, it's shallow.
Pit Stops: Fun right, only breaks good when small, very shallow coral reef and a couple hundred yards away from E Bay. Take off is off a boil and you can back door the peak, hit it once or twice, do a roundhouse (if your 165 lbs or less) or smack the end closeout section. Watch out it's shallow on the inside. If your over 165 lbs, you should have a good small wave board for maximum pleasure.
E Bay: A good right hand reef break, very shallow, breaks along a shelf, close to shore. Take off deep and enjoy a flawless, wrapping, left wall. Stall for the barrel or get on the gas and carve some turns. Watch out for the end closeout section over dry reef. Don't try to float it.
BengBengs: Another small wave spot. A fun left over a shallow, but mellow, coral reef. Best when waist to shoulder high. Take off over a shelf, the wave starts out small, and gets bigger. Don't race it too far or you'll pass the workable section which can be smacked or floated for optimal enjoyment.
(Playgrounds: The next three small Islands to the south) From West to East
Kandui Left (NoKandui) : Very Fast, left reef/point break. Did I say fast? Very shallow, but relatively flat coral reef. Better when bigger. The wave breaks from way out on the point and peels with several noticeable sections. Take off as deep as you can and put the pedal down and pull into the sections. Just as you think your coming out the next slab will throw over you. Some will make it all the way in through the inside bowl section. Get one all way through and try to hold back on the urge to claim it.
Inside Kandui Point: Mellower version of Kandui Left but less consistent. Fast, clean, and hollow over a very shallow, but relatively flat, coral reef. A little hard to catch because the takeoff spot shifts. Very fast right off the takeoff. Drive down the line and carve some top to bottom turns and pull into one or more of the sections.
Playgrounds: Fun right and left peak over a very shallow coral reef. Usually the smallest of all the waves in the playground area. Good peak with a workable left and right. The left is slightly better than the right.
Spankers or 4 Bobs: Short but rippable, fairly mellow, one turn only, right peak. Take off deep and drive up into, over or through the best section. Watch out for the one out the back. Get caught inside and your standing on almost dry reef.
Pistols: Inside section of Kandui Right (Rifles) Point. Fast, Bowly, right hander over a very shallow reef. With the right swell and wind direction you can score some good ones.
Rifles: A favorite for the regular footers. One of the best in the Mentawais when its on. A fast, hollow right hand point/reef break. Better when bigger. Take off as deep as you can and drive through the fast, but perfect, right barrel. It's a little tricky on your backhand. Gets shallow and can suck almost dry at low tide on a big swell.
Surf Video: Rifles, Playgrounds, Kandui, WavePark, Mentawai, Indonesia
A-Frames or John Candies: Left hand reef break far off the southern tip of a small island. Kind of shifty but gets fun with the right conditions.
Crystal Bowls: Right hand reef break off the eastern tip of a small island. Breaks very close to shore on shallow coral reef. Not a very popular spot but it has its days.
There are a few other no name spots that appear with the right wind, swell and tide combinations that can get epic.
Below Picture is of Hideaways from the channel. This is why we go.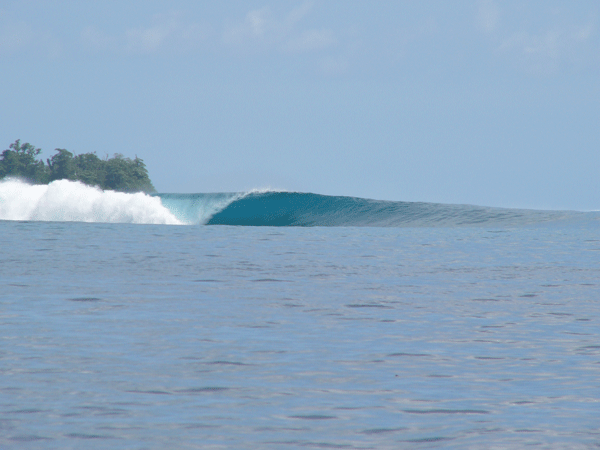 Beginning the long trip home:
Leaving the island on board the speed boat "Liberty". We would have taken the ferry but the opportunity to take the speed boat arose and we were on it. The waves had been small for a couple of days and we were ready to go home. We wanted to surf more but we were all missing our families. I know, "Do I want you to call the whaamambulence?" or "Do I want you to order me a whaamburger and some French Cries?" Anyway, we had a full boat with seven passengers plus a crew of two so the "Liberty" was at maximum capacity. With the three outboards running we headed back to Padang. It took us about six and a half hours to make crossing. We pulled into the Padang Harbor right as it was getting to dark to see. Christie was there to meet us at the dock and provided transportation to the hotel.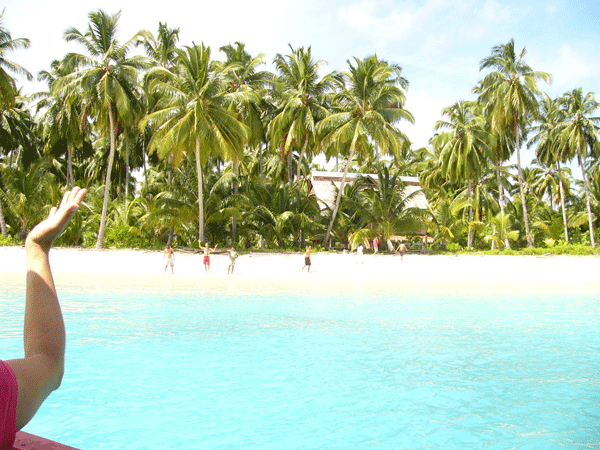 This time we stayed at the Bumi Minang Hotel (http://www.bumiminang.com/). It's a much larger hotel conveniently located around shopping, banks, inexpensive international phone call center and more. The Bumi Minang has a restaurant and Bar in the Lobby, an outdoor pool, room service, a night club, a Singapore Silk Airline office, business center and more. The air conditioned rooms are nice the service in the hotel was great. We spent two nights in Padang waiting for one of only two Silk Air flights which leave per week. The first night we had dinner at the hotel restaurant. The service and food was very good.
On your way back through Padang is a good time to shop for gifts or observe and experience some the the local culture.
We played 9 holes at the Anai Resort Mountain Golf Resort and had a great time. It's a 2½ hour drive from Padang, in the mountains, but it was well worth it. Christies, crew arranged for transportation which made it nice and easy. It was nice and cool and the course was fun. It's relatively inexpensive and highly recommended it you have an extra day to kill in Padang. We had a great time and some good laughs.
The next day was our departure date. We bought a few last minute items to spend the rest of our Rupiah and it was off to the airport. Christies crew was there on time to load our gear and drive us to the airport. Christie was at the airport to meet us for our departure. He's a good guy and he and his crew make the travel logistics very easy. I can't wait to go back.
On the way back, we flew on Silk Air to Singapore, then once in Singapore we flew to Tokyo and then to LA. The flight from Tokyo to LA was only around 8 hours but it was a long rough plane ride. The plane was full and it was very difficult to sleep. Make sure whoever is picking you up has your correct itinerary. My ride wasn't there and it was a bummer.
Thanks again to Christie and his crew at WavePark for an insane surf trip and experience.
For more information on Visit WavePark Mentawai Surf Resort on SurfTrip .com
Check Out the WavePark Mentawai Surf Resort Surf Trip Photos!