WavePark Mentawai Surf Trip Travel Destination
Planning an Indo Surf Trip? Seriously consider WavePark Mentawai, Sumatra ( Sumatera) Indonesia
Hosting guests since 1998, WavePark Mentawai Surfing Resort is the original full service land-based surfing resort in the Mentawai Islands. Our all inclusive price includes private transport to and from mainland Sumatra, covering the channel in 4.5 hours. Also included are guided surfing and fishing speedboat service, 3 meals a day, drinks, snacks and accommodation. With a maximum capacity of 12 surfers, the WavePark Mentawai guests have the entire island for their exclusive use.
Located in northern Mentawai near the Playgrounds anchorage, we offer 19 different waves to chose from; rifles, ebay, bank vaults, hideaways, playgrounds, kandui, candys, corners, tikis, spankers, pit stops, beng bengs, no name, piggy banks, pistols, 3"b"s, burgerworld and crystal bowls. We are proud of the extensive knowledge of secret waves that charter boats don't visit and Mentawai weather conditions, built up from a combined 20 years experience hunting waves in the area. With unrivaled speed and comfort between lineups you will get better surf, more often with less crowds.
The WavePark Surf Resort:

More Surf Trip Videos on Surf Trip Surfing Community

The losmen: is a newly built three story building located right on the beach with a great view of Hideaways left and the sunset over the adjacent Mentawai Islands.

WavePark Mentawai Surf Resort: What a view! The point in the distance is Hideaways.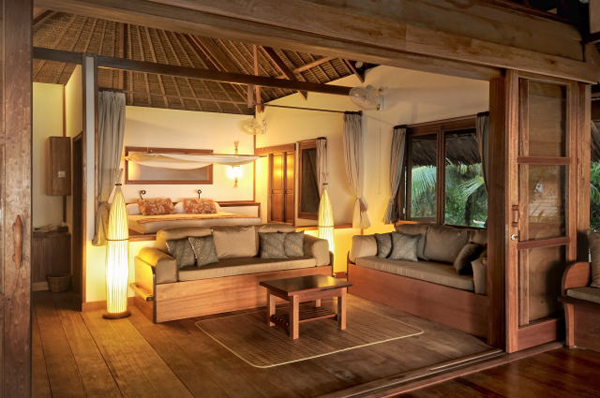 The Bungalows of the resort are designed to sleep two people, either in twin or double beds. The sofas in the living room turn into beds if guests want to bring their kids.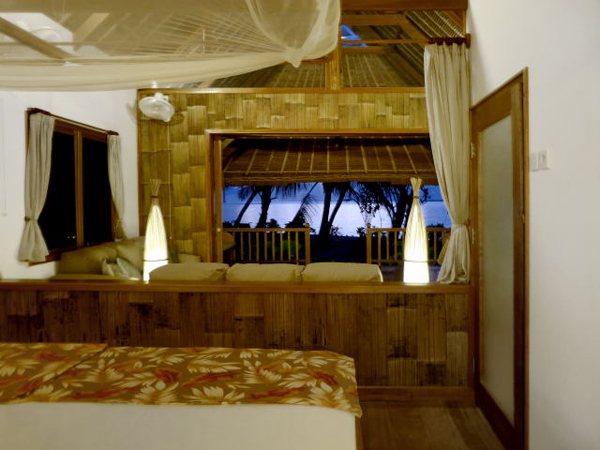 The Bungalows are all beautifully finished with high attention to detail throughout. The Bungalows can be completely open, or closed up tight to keep the bugs out. Also included is an in-room safe and personal sound system with iPod docking capabilities.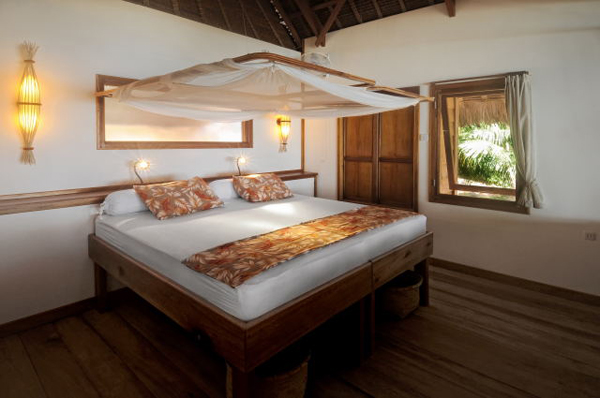 Bungalow bedroom configured as a double bed. Reading lights for each guest are provided, as well as wall fans for every bed. The Bungalows are well lit and tastefully decorated.
Our showers are solar heated and as much water as you need everyday. They provide body soap and fresh towels for every guest, and housekeeping changes this out frequently.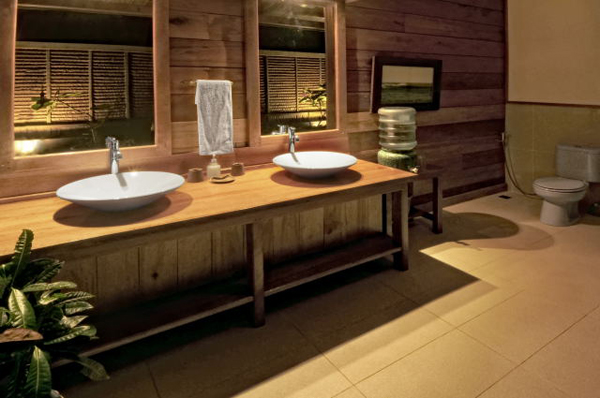 WavePark Bathrooms: Indoor/Outdoor bathrooms with hot water showers and vanities that will keep the wife happy as well!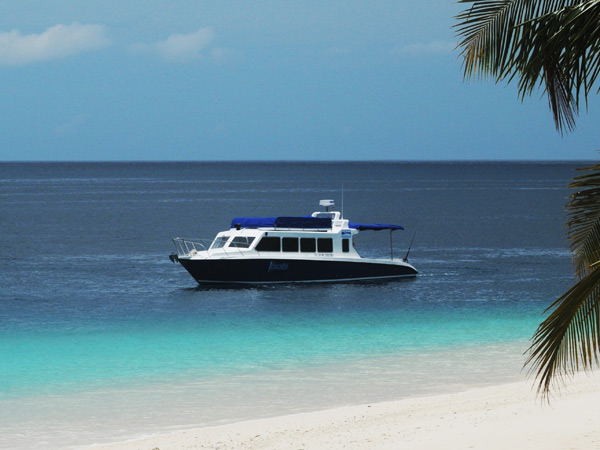 KM Koraibi tranports the WavePark guests from the mainland - the resort in 4.5 hours. Guests are required to spend a night in the city prior to boarding the boat on the first day, but have the option of flying out on the afternoon of the last day. The resort staff also take care of hotel bookings, but the hotel room is not included in the price.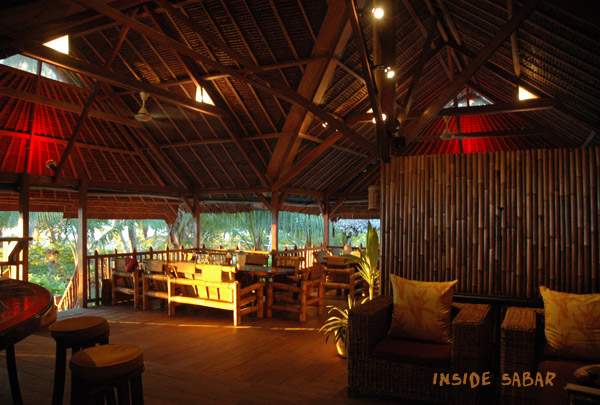 The food is excellent! The typical breakfast always involves coffee or tea (fresh espresso if you want it), juice and fresh fruit with some combination of pancake, French toast, cereal, oatmeal, or eggs etc. It's a great way to start the day. Lunches were typically high-carb meals to replenish your energy from the pre and post breakfast surf. The menu would range from grilled tuna burgers to local meals such as nasi (rice) or mie (noodle) goreng (in a sweet sauce and covered with a fried egg) to traditional Sumatran food. On most nights we were lucky to have fresh fish for sashimi appetizers and fried fish to go with the meal. The menu would range from Pizza to hamburgers to spaghetti to traditional Indonesian and Sumatran foods.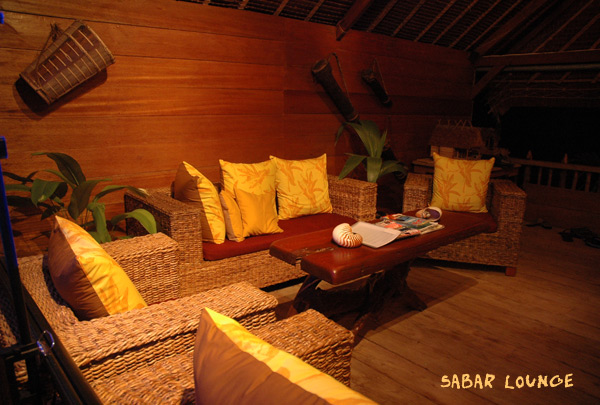 The Bar is roughly one by two meters with a decorative wood top and bamboo trim. It is a full bar with custom cocktails on the menu and a full time bartender. There are 9 different kinds of beer and the staff prides themselves on keeping them cold! The bar has a great lounge to hang out and have a couple of beverages before dinner and watch the daily slide show of photos taken by the resort photographer. Reliving all those triumphs and tragedies almost in real time!
Getting There is as easy as pie. The hardest part is travelling over thousands of miles of ocean just to get to Indonesia. Once you're in Padang, the resort staff welcome you with drinks and cold clean wash cloths. Everything has been thought of, and no wonder after 15 years of experience hosting guests!
We went there in 2005 and it was great. Read Surf Trip Surf Travel WavePark Review.
• Check Out the WavePark Surf Trip Photos!
• Visit WavePark Mentwai SurfTrip Profile to view more WavePark Mentawai Photos, Video and the Most Recent WavePark Info...
Visit the WavePark Mentawai Surf Resort Website for More Info.
Booking the WavePark Mentawai Surf Trip: Alice wavepark.resort@gmail.com
WavePark Mentawai Surf Trip Photos:

Find more photos like this on Surf Trip Community

WavePark Mentawai Surf Trip Video: Rifles Going Off

Find more v ideos like this on Surf Trip Community

Airlines Serving Mentawai Islands
Singapore Airlines - Singapore's national carrier. Site includes information on routes, schedules, inflight dining, and online reservations. No Charge for Surfboards! Call customer service for best airfares.
Back to Sumatra Surf Trip Vacation Destinations Travel Directory...